www.industry-asia-pacific.com
Written on Modified on
Morgan Advanced Materials
Morgan Advanced Materials, a global leader in the application of advanced composite armour technology, has launched a pioneering, ultra-lightweight ballistic insert that provides multi-hit protection against NIJ Level III and special threats, including SS109 "Green Tip" ammunition.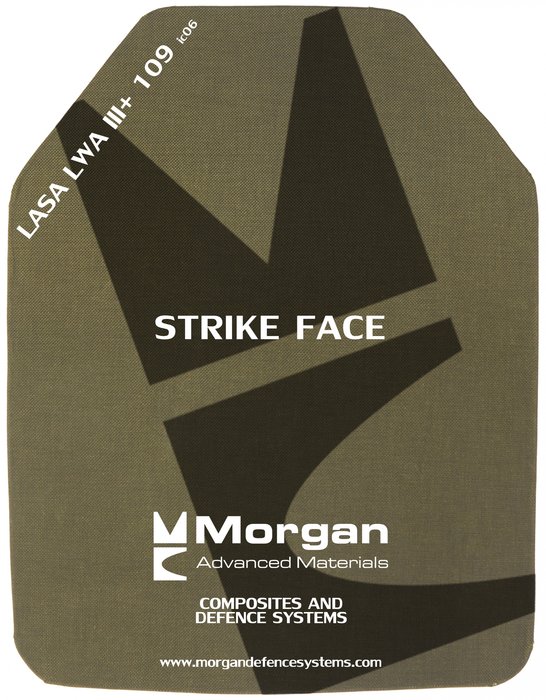 The new 'LASA LWA III+ 109' ballistic insert is the latest addition to Morgan's extensive LASATM range of combat equipment. Weighing just 1.6kg (3.5 lbs), and with a thickness of 21mm (0.8 inches), the LASA LWA III+ 109 ballistic insert has been developed to directly address the safety concerns of military, law enforcement and security personnel against the growing threat of the 'green tip' SS109 round.
The high-performing solution works in conjunction with approved NIJ Level IIIA soft armour. It delivers a lightweight alternative to the heavier NIJ Level IV plate, which typically weighs in excess of 2.5kg (5.5 lbs), as well as the standard NIJ Level III ballistic insert, which, critically, can be pierced by the SS109 round.
The durable LASA LWA III+ 109 ballistic insert, tested against NIJ 0101.06, meets stringent drop test requirements. It also delivers multi-hit protection at NIJ Level III and the special threats 7.62 x 51mm 149gr M80 FMJ, 7.62 x 39mm 123gr PS Ball (Mild Steel Core) and 5.56mm M193.
James Kempston, Business Development Director, Morgan Advanced Materials – Composite & Defence Systems, comments: "Our extensive capabilities in composite armour design and manufacturing allows us to produce industry leading lightweight armour aimed at protecting law enforcement and military personnel.
"The LASA LWA III+ 109 represents a significant step-change in ballistic inserts. Not only does it protect against a complex range of threats, including SS109 ammunition, its lightweight design also significantly reduces weight burden, enabling more strategic load carriage for those working on the frontline."
The LASA LWA III+ 109 ballistic insert is the latest product in Morgan's LASA portfolio, delivering a complete range of protection from discreet covert solutions to protection against special threats exceeding NIJ Level IV.
LASA products are built to maximise safety, while minimising weight. This target is achieved through Morgan's use of cutting-edge materials, backed by the company's rigorous in-house testing strategies and expert knowledge of composite armour technology.
The LASA LWA III+ 109 is available to purchase through Morgan's Composites and Defence System business in the UK, Canada and Singapore.
For further information, please visit: www.morgandefencesystems.com/109-insert