www.industry-asia-pacific.com
Written on Modified on
Rising to the occasion: Customized solution for crane drive synchronization
What to do when the crane of your choice is no longer available? An Australian provider of overhead cranes fulfills all customer needs, even when the parameters are very particular. For this application, the challenge was to synchronize a new bridge crane with two existing ones. The German manufacturer NORD DRIVESYSTEMS configured the drives keeping in mind the end-users budgetary requirements.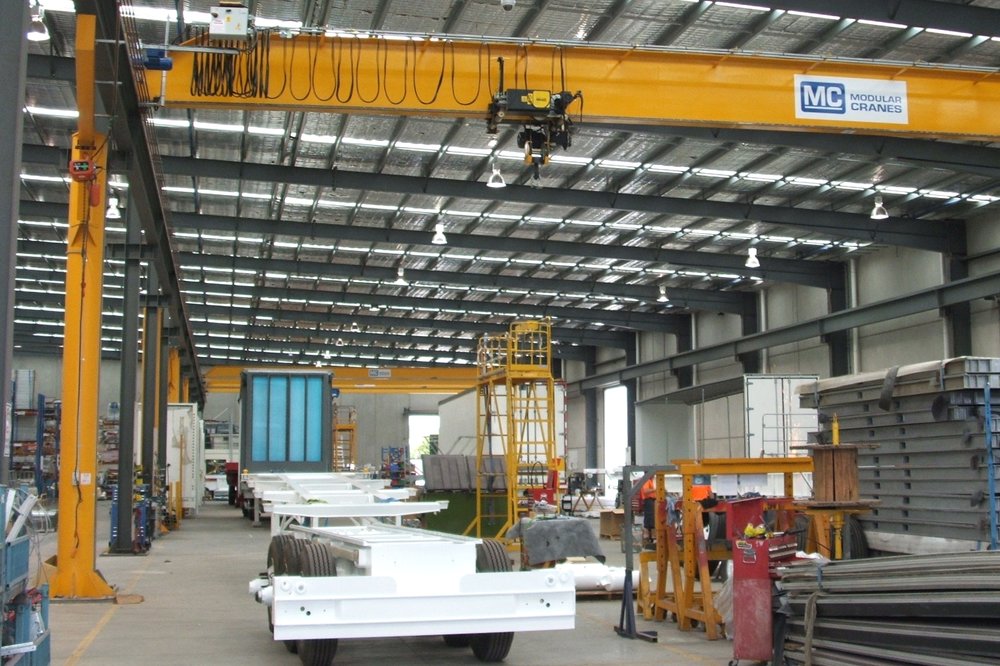 Illustration 1:
The end-user, a manufacturer of heavy truck trailers, required an additional crane for the handling of new, larger trailer models
Melbourne-based Modular Cranes Pty Ltd is one of Australia's leading overhead crane suppliers, offering modular packages for payloads up to 100 tons. The cranes are individually adapted to suit the particular factory layout or application. The family-run business, established more than 30 years ago, supplies quality material handling products to clients all over the country. Modular Cranes works with top crane technology manufacturers such as Advanced Radiotech Corporation, Donati, and Street. The company also services cranes throughout Victoria as well as New South Wales, South Australia, and Tasmania.
Emulating specifications of a discontinued crane model
A manufacturer of heavy truck trailers approached Modular Cranes with an unusual problem. The company had been successfully using two 22 meter wide overhead cranes in its factory. The cranes, traditional single-girder bridge designs rated at 12.5 tons each, were installed on the same set of support beams spanning the entire length of the factory. They were identical in their specifications and synchronized for two speeds as well as for ramp-up and ramp-down times. A wireless handheld remote control pendant simultaneously actuated the pair of cranes as required. Changes in the production process now necessitated the installation of a third identical crane on the same set of support beams, allowing for very long and heavy trailers to be moved through the factory with the load shared between two of the cranes at any one time. However, the specific crane used in this application was no longer in production. After many years of reliable service, the existing cranes had not nearly reached the end of their lifespan, and therefore it was neither economical nor environmentally sustainable to replace them. Modular Cranes needed to find a practical and economic alternative design solution to match the performance and synchronization characteristics of the existing onsite cranes.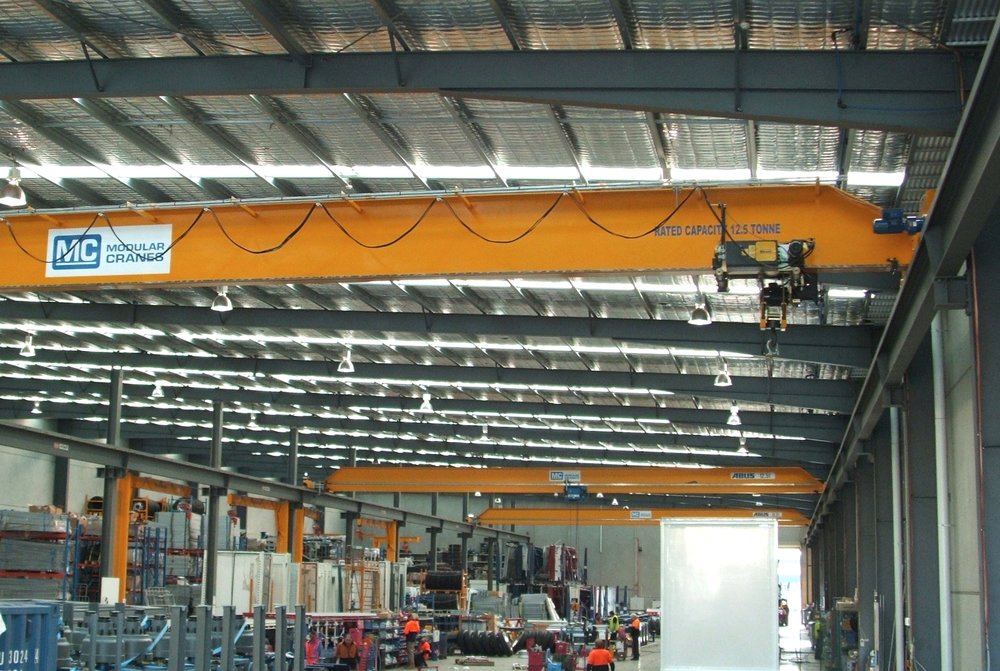 Illustration 2:
The 22 m wide overhead cranes run on beams that span the entire length of the factory, all three are synchronized for speed and ramp times
Customized drive configuration
For the new overhead crane's two bridge drives, Modular Cranes sought the expertise of German drive manufacturer NORD DRIVESYSTEMS. Annie McDiarmid, Operations Manager at Modular Cranes, says, "We were faced with the problem that our new crane needed to travel exactly in synch with the existing onsite cranes. NORD DRIVESYSTEMS offered us a solution that met our customer's budgetary requirements and assured us that we could match acceleration, deceleration, braking, and traversing speeds with the existing non-inverter driven cranes." NORD proposed an integrated solution consisting of an efficient helical gear unit, a standard four-pole electric motor with a 10 Nm electromagnetic brake, and a motor-mounted frequency inverter with an external brake resistor. The two bridge drives were configured to synchronize and match the existing cranes using a simple parameter set-up procedure and were flange-mounted on the crane girder. Operation is comfortably carried out with the same remote control pendant, no additional configuration is required. The precision of the NORD helical gear set and the flexibility of the decentralized frequency inverter software permitted this new crane to be synchronized with the existing cranes without rotary encoders.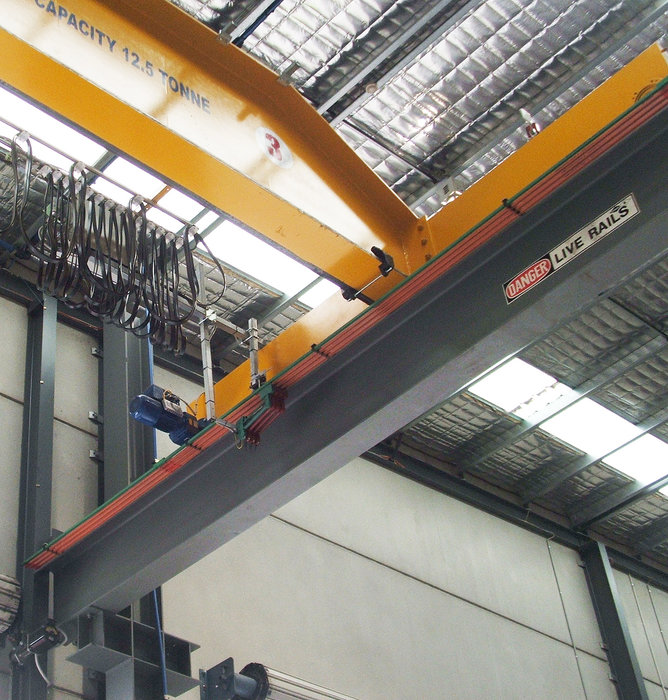 Illustration 3:
The bridge drives for the new crane were custom-tailored by German drive technology manufacturer NORD DRIVESYSTEMS
Resilient gearbox
NORD configured the gear units using its UNICASE helical inline gearbox series which, providing a wide torque range from 10 to 26.000 Nm and ratios from 1.35:1 to 14,340.31:1, enables unique flexibility in the configuration of the optimal drive train for any task and mechanical setup. The UNICASE housing design – with its one-piece machined construction including integrated flange and bearing sets – provides long and trouble-free operation and allows for a highly robust solution that can withstand extreme loads. NORD is the unrivalled leader in this field and the only manufacturer worldwide to produce very large industrial gear units with 242,000 Nm output torques in a single-piece cast-iron housing.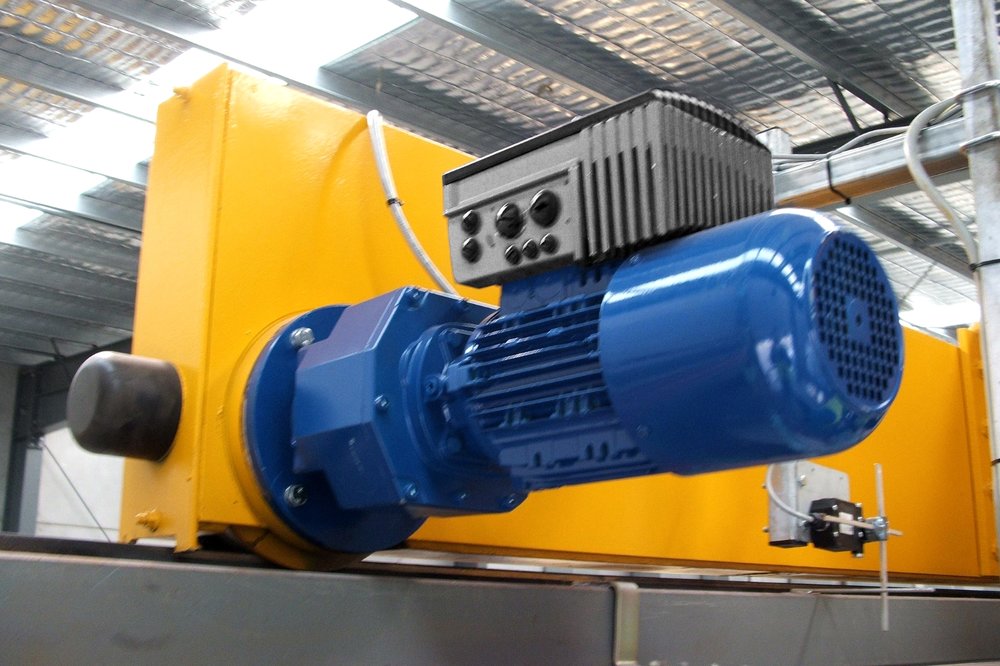 Illustration 4:
The economic solution consists of two flange-mounted NORDBLOC.1 geared brake motors, each fitted with an SK 205E frequency inverter and an external brake resistor
Adaptable electronics
To solve the synchronization problem, NORD recommended a motor-mounted frequency inverter for straightforward installation that makes shielded cables unnecessary. The manufacturer has a comprehensive drive electronics program with graded performance and functional range options that allow users to choose suitable compact solutions with the exact features they require for any given task, thereby optimizing budget and resource use. The SK 205E inverter selected for this application realizes drive functions such as ramp-up: the inverter ensures the motor starts slowly with high torque, thereby protecting the mechanics from the extreme loads that are effective when the heavy overhead crane is started from standstill. An external brake resistor accommodates the regenerative current when the crane is decelerated. The inverter is also equipped with an integral 24 VDC power supply to provide the internal control voltage – therefore requiring only a power connection and no separate control cable.
Global presence ensures local support
Operations Manager Annie McDiarmid highlights the quality of NORD's customer support, "Throughout the process, NORD offered us abundant amounts of support from trained professionals and worked with us to achieve the best possible outcome." Her conclusion after the completion of this customization project: "No problem is too big for NORD!" To achieve this high level of support globally, the NORD DRIVESYSTEMS Group has established a large network of subsidiaries and service centers. The manufacturer has been represented on the Australian continent since the mid-1990s. NORD's Australian subsidiary, NORD DRIVESYSTEMS Pty Ltd, began operations in 2010 with the construction of an assembly facility in the Melbourne suburb of Derrimut. The plant boasts a state-of-the-art geared motor manufacturing capability with production and quality assurance processes that comply with the standards of the German parent company. NORD maintains sales branches in two further port cities, Sydney and Brisbane. Regional sales managers serve all States and Territories in Australia as well as New Zealand. NORD supplies motors conforming to the relevant Australian energy efficiency specification MEPS High Efficiency and frequency inverters with C-Tick certification.