www.industry-asia-pacific.com
Written on Modified on
As tough as it gets
Robust drive technology for cooling tunnels and pasteurizers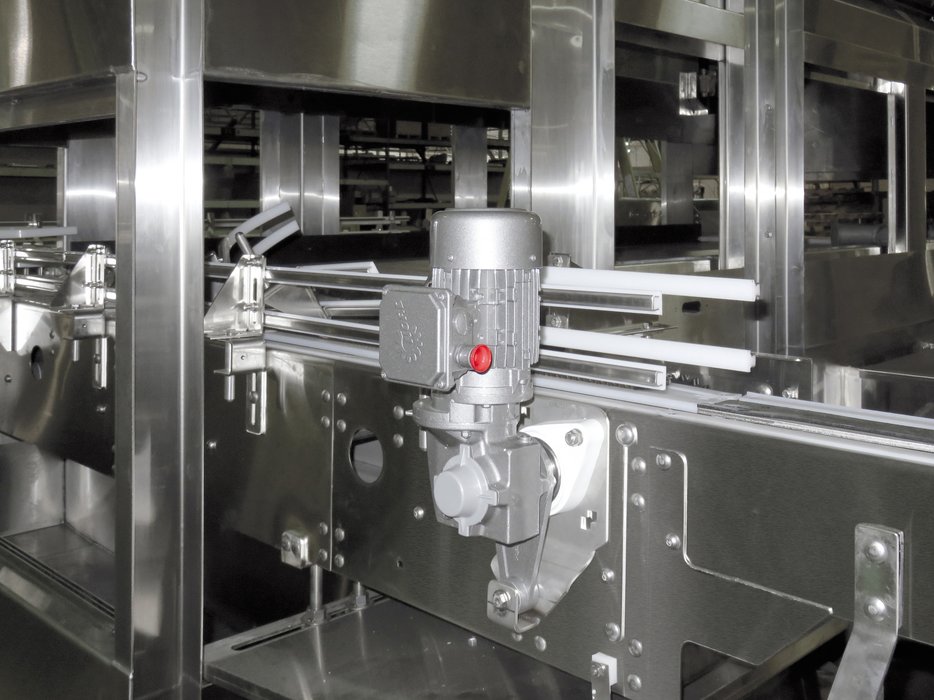 Illustration 1:
No bottlenecks in bottle separation – a resilient worm geared motor prevents gridlocks
A manufacturer of bespoke machines for the food and beverage industry, US-based mechanical engineering company G.C. Evans has come to appreciate the dedicated and capable support provided by their drive supplier, NORD DRIVESYSTEMS. NORD configures reliable, low-maintenance drive units featuring application-specific options.
Standstill is a word that smacks of bitter losses to the beverage industry. For drive technology in this sector, high availability and easy maintenance are therefore absolutely essential. David McNamer, manufacturing manager at G.C. Evans Sales & Mfg. Inc., a US-American manufacturer of cooling and heating equipment for the food and beverage industry, explains: "If a beverage pasteurizer were to have a drive failure, you are not only talking about lost product in the unit, but stopping a production line to the tune of potentially hundreds of thousands of dollars per hour. I do not want to worry about our drives and I do not want our customers to either. That is why we choose NORD. In 2008, we decided to give NORD drives a chance, and were in for some very pleasant surprises: Not only were the units less costly than comparable competitors', but they were really high-quality and well-engineered units. What impressed us the most was the level of service we received from NORD. We are always dealing with a single engineering contact within their company." Today, NORD drives are used in all G.C. Evans machines. NORD is one of the world's most experienced gearbox manufacturers with an industry-leading product range featuring variable gear ratios, flexible installation options, and wear-free gearing. NORD configures low-maintenance, sturdy drives for G.C. Evans, implementing application-specific feature options ranging from special gear lubricants to vent plugs that help prevent leakage.
Fail-proof and efficient in various machines
For two major recent orders, NORD has configured two conveyor drives with very high gear ratios for G.C. Evans. One of these systems, a parallel shaft geared motor, moves 20,000 jam jars, each weighing more than 1 kg, through a cooling tunnel. Its gearbox is configured with a 2,500:1 ratio to achieve an output speed of 0.6 revolutions per minute. This drive system features various special options to meet the hygiene requirements of food processes: a very durable stainless steel finish, a food-grade gear lubricant, a vent plug, and an oil sight glass. The pressure relief vent plug from NORD regulates the air pressure in the gearbox when it heats up and cools down. It prevents the ingress of dust or liquids, which could contaminate the oil and compromise its lubricating properties. This measure enables an extension of the oil change interval. Gaskets, gears, and bearings suffer less wear and tear.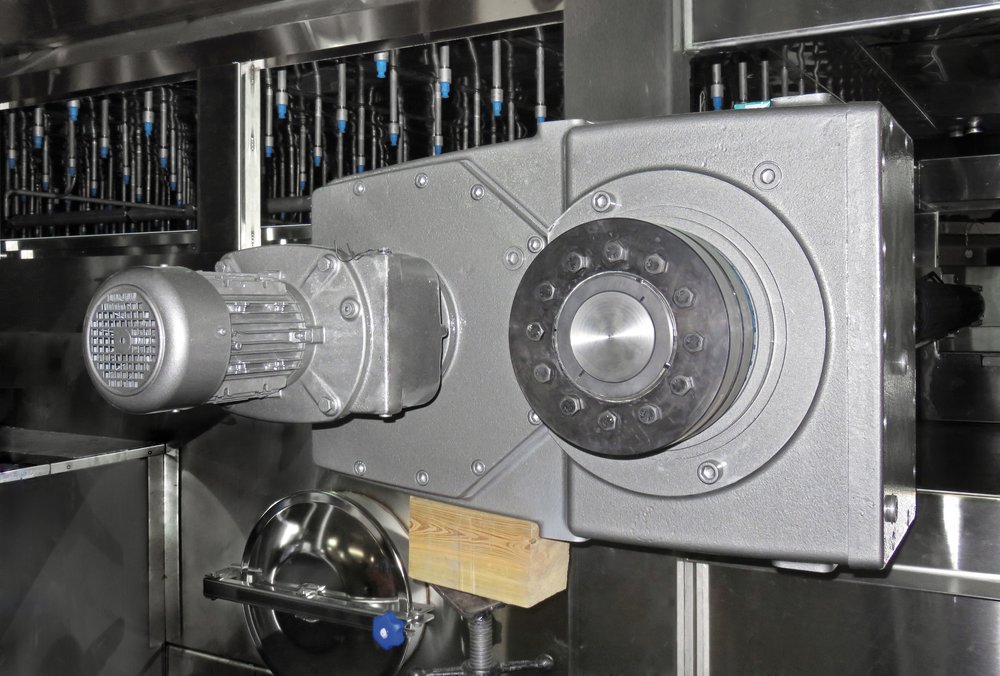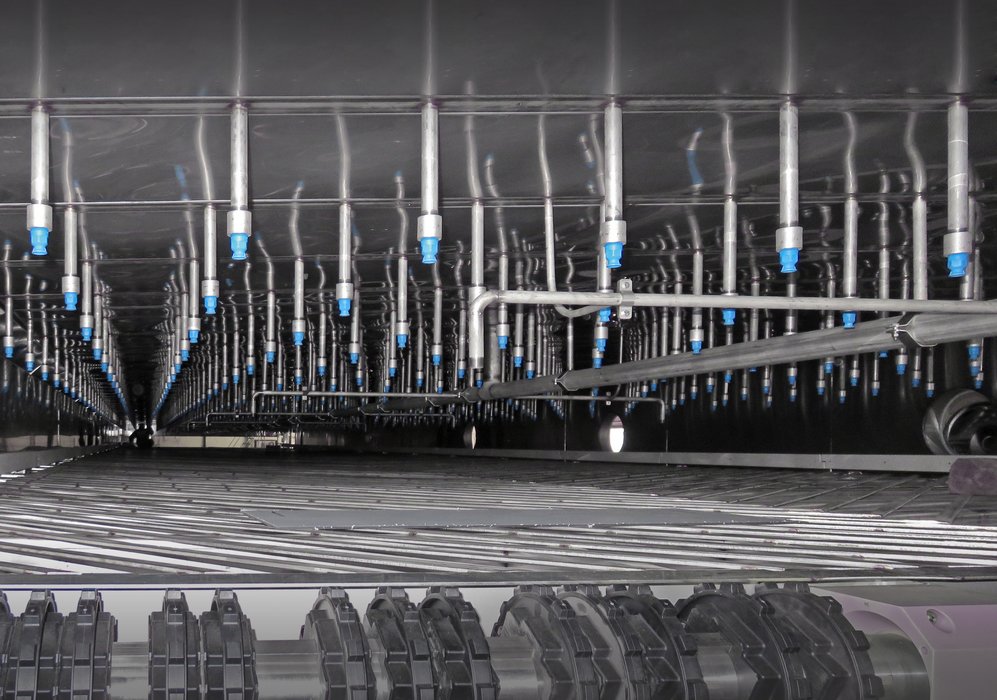 Illustrations 2, 3:
The parallel shaft geared motor with an input stage (left) driving the conveyor in the cooling tunnel (right) features a low-maintenance Gripmaxx bushing
Hard-wearing special coating
Gear units and motors from NORD are generally designed to withstand harsh environmental conditions. They are effectively sealed against an ingress of moisture and are fitted with corrosion-resistant components. The NSD-x3 severe-duty coating, which NORD only offers in the United States, provides extra hard-wearing, long-lasting external corrosion protection for the drives supplied to G.C. Evans. It consists of two primers and a stainless steel (316) saturated silver-gray polyurethane finish. The solvent-based paint ensures increased durability. Completed by a clear top coat, the coating achieves a very high overall resistance to blows, scratches, heat, moisture, and also to industrial solvents such as lacquer thinner, acetone, gasoline, lubricants, and cutting oils.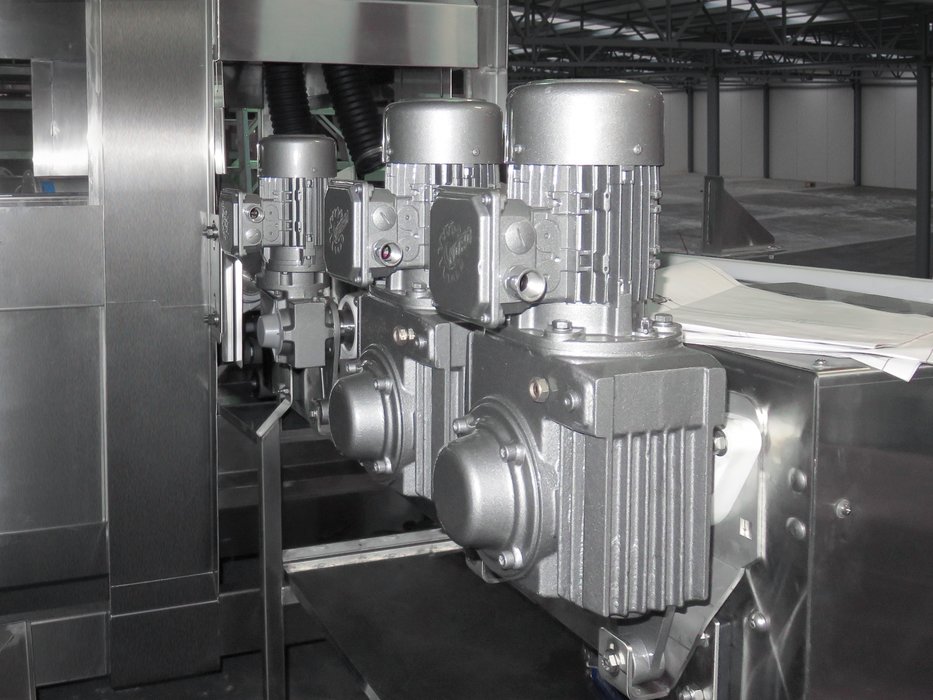 Illustration 4:
A severe-duty coating with four layers of paint ensures scratch-resistant corrosion protection

Sturdy, low-maintenance shaft mounting
The second recent project for which NORD supplied a special drive system was a fruit juice pasteurizer with a slow-running conveyor belt: one bottle takes 45 min to pass through the 25 m long machine. The hollow-shaft parallel shaft geared motor is mounted on the machine shaft with a Gripmaxx bushing. The bushings developed by NORD are mounted on the drive shaft simply by means of a few screws, with no need to make any changes to the machine design. A tutorial on the NORD YouTube channel demonstrates how a Gripmaxx bushing is properly attached. Jason Jones, director of engineering at G.C. Evans, explains why this was the optimal mounting method for the pasteurizer: "This roller is removed every few years to service the bearings and for maintenance. A more traditional keyway-secured bushing may be quite problematic, since fretting and corrosion make it very difficult and sometimes expensive to remove. With the Gripmaxx solution from NORD, the hollow bore simply collapses on to the shaft. Removal of the shaft is then grab-a-wrench simple." While load fluctuations and start/stop or reverse mode operation put strain on keys and can loosen conventional bushings over time, FEM-engineered Gripmaxx bushings spread the forces evenly over the entire contact surface. In contrast to standard shrink discs, NORD's Gripmaxx bushings are available for many different combinations of inner and outer diameter, and therefore require no expensive custom designs.