www.industry-asia-pacific.com
Written on Modified on
New Makino L2 5-axis vertical machining centres: Optimum solution for high-volume parts production
The new Makino L2 5-axis vertical machining centre delivers high accuracy and rigidity from a ultra-compact footprint. Two models dedicated for indexing applications and impeller machining, respectively, will be launched at EMO in Hannover this year. Both have been custom-designed for high-volume, small-part manufacturing processes, ready for automation.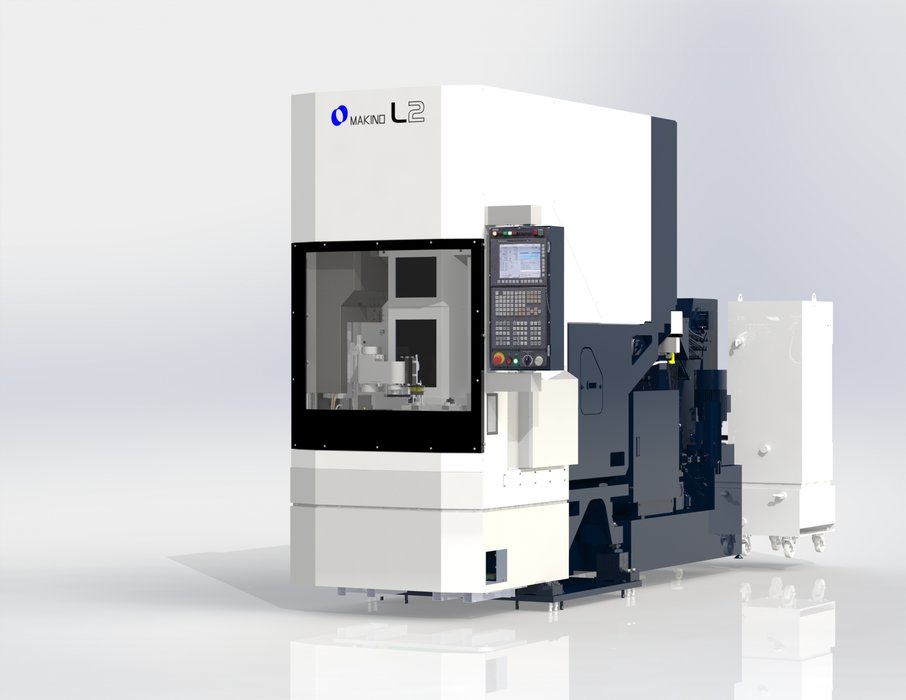 Image 1: Front view of Makino L2

Industries:
Automotive, medical equipment, aerospace, consumer electronics, home appliances

Applications:
High-volume parts production

Combining a rigid construction and flexible spindle design with an ultra-compact footprint, the L2 offers a highly stable and reliable machine platform for fully unattended, round-the-clock processing of small components. The small size of this machine means it can be effectively employed in virtually any kind of work-piece flow arrangement, ranging from manual transfer of parts to automated part movement in robot-based systems. Equipped with a high-power spindle, the machine can easily tackle the rigorous milling, drilling and tapping tasks required for various production parts—and has the speed and acceleration to reduce part cycle times manifold. The L2 features dual direct-drive (DD) motor and brake on the A-axis and a single DD motor and brake on the C-axis to achieve high-speed, high-accuracy 5-axis machining.

L2 5-Axis Index

The L2 5-Axis Index specification comes with a high-speed 5-axis index table, customised automation fixture and 5-axis machining capabilities for a variety of materials and work-pieces, targeted at the high-volume parts production segment in various industries such as automotive and medical equipment. It can handle work-pieces up to Ø400 mm and 80 kg in weight. The table is fitted with eight hydraulic and pneumatic ports for easy integration of automation fixtures. The machine comes with a 16,000 rpm HSK-A50 spindle. The automatic tool changer (ATC) has a capacity of up to 15 tools or 30 tools as an optional specification with a maximum diameter, length and weight of 80 mm, 250 mm and 8 kg respec-tively.

L2 5-Axis Impeller

Designed for high-speed impeller machining, the L2 5-Axis Impeller specification machine has two outstanding features – a high-speed simultaneous 5-axis table and a 25,000-rpm spindle. The cartridge exchange-type, 25,000 rpm spindle (HSK-A50) comes with oil-air lubrication and delivers power of up to 18.5 kW and torque of up to 21.5 Nm. The X, Y and Z axes have 1 G, 0.9 G and 1.4 G accel-eration/deceleration respectively.

Both L2 machines are designed for simple integration into a variety of automated part transfer and loading configurations, including exterior loading arms and fixed or movable robot loaders. These automated configurations can contribute to higher production rates, shorter lead-times, reduced labour costs and significant savings in floor space.


For further information, please contact:
Andreas Walbert
Head of Marketing and Product Planning
Phone : +49 7021 503-201
E-Mail: This email address is being protected from spambots. You need JavaScript enabled to view it.
Website: www.makino.eu