www.industry-asia-pacific.com
Written on Modified on
Makino a500Z: reliable and efficient production with 5-axis flexibility
At the yearly press conference in Kirchheim unter Teck, Makino announced the launch of the latest addition to its family of 5-axis machining centres, the a500Z. Based on proven technologies of Makino's a1 series, the new 5-axis horizontal machining centre is tailor-made for complex-parts production.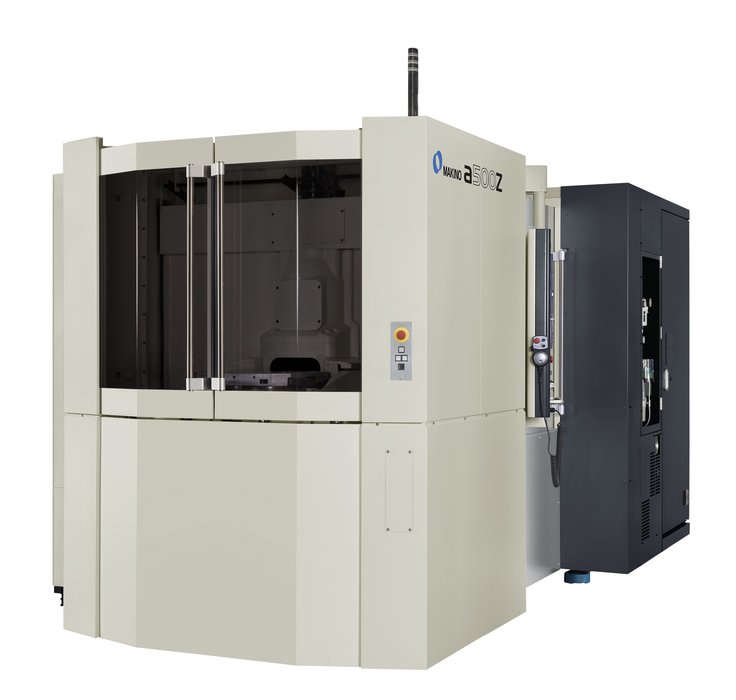 Image 1: Front view of Makino a500Z

Industries:
Parts production, Die & mould, Automotive, Industrial components, Aerospace, Job-shop

Applications:
Simultaneous 5-axis milling, Indexing


The highly rigid machine structure and low inertia of the a500Z ensure the same  efficiency of this 5-axis horizontal machining centre one would normally expect from a 4-axis machine. The one-piece bed casting, three-point support and slant-bed design offer stiffness and excellent stability. The symmetrical slant structure, applied in some of the a1 series machines, ensures a minimised force loop for greater efficiency. With Makino's innovative technology, the swivel table comes with minimal overhang and excellent rigidity.
Enhanced productivity
The a500Z has a high-torque 303 Nm HSK-A63 Makino spindle, similar to the a1 series machining centres. Premium job shops are faced with frequent model changes, tight re-programming times as well as numerous positioning and indexing operations as well as on-machine manual inspection times. The a500Z delivers high positioning accuracy thanks to the short distance between the A-axis pivot point and workpiece location. Minimisation of level differences at seams in index machining, and the ability to move heavy workpieces and enjoy fast acceleration and deceleration in simultaneous 5-axis machining further reduces cutting and non-cutting time.  
The machining centre offers a 730 mm X-axis, 750 mm Y-axis and 700 mm Z axis stroke accommodating a work-piece of maximum size and weight of ø630 mm x 500 mm and 400 kg respectively. The standard automatic tool changer (ATC) can accommodate up to 60 tools and delivers a chip-to-chip time of 2.4 seconds. The machine's high-speed automatic pallet changer (APC) and horizontal loading function are additional efficiency-boosting features.
Operational accuracy and thermal control
Makino machines are renowned for their thermal control technology – the a500Z is no exception. A thermally symmetrical structure is combined with effective heat removal from the spindle, support structures like the ball screws and motors, to ensure the machine's stability and machining accuracy during long hours of operation. The ball screws and nuts are core-cooled which prevent heat from building up and creating thermal distortion and subsequent errors. The direct-drive motors on the B/C axis are also fitted with cooling jackets to suppress heat generation.
Excellent coolant management and chip evacuation
Effective coolant and chip management is an absolute necessity if a machine is intended for high productivity levels and consequently generates high volumes of chips per minute. Contrary to the conventional 5-axis trunnion table setup, the a500Z has a wide trough located beneath the table. A generous flow of coolant from the overhead shower, wall washing and terrace washing coolant system eliminates accumulation of chips ensures that chips fall directly in to the trough for an excellent chip evacuation. The pallet loading system (PLS) also has terrace washing and a very good flushing system to facilitate better chip evacuation. 
 
Makino's latest controller: Professional 6
To further complement the enhanced productivity, the a500Z features Makino Professional 6 (PRO 6) controller. The controller is easy to operate and flattens the learning curve for new operators. 
Features like the advanced motion control Geometric Intelligence (GI) functions reduce overall cycle time in typical production components like hydraulic valves and electronic boxes. GI Drilling enables the spindle and tool to arc from hole to hole instead of following a square path. This reduces non-cutting times in comparison to common hole-pattern drilling. On the other hand, GI Milling is designed to improve performance in 2-D milling. It lets the user define a corner-rounding tolerance on each milling path. 
The Makino PRO 6 controller comes with Inertia Active Control (IAC) technology, for greater efficiency. The IAC gets feedback from the servo-motors and sets the acceleration and deceleration of the specific pallet at the optimum level.
 
Automation
The a500Z is ready for both pallet and parts handling automation. Intelligent automation solutions from Makino, including systems like MMC2 and VIP with 6-Axis robots as well as standard automation systems available in the market can be easily integrated with the machine. Also a500Z can be easily integrated into existing systems.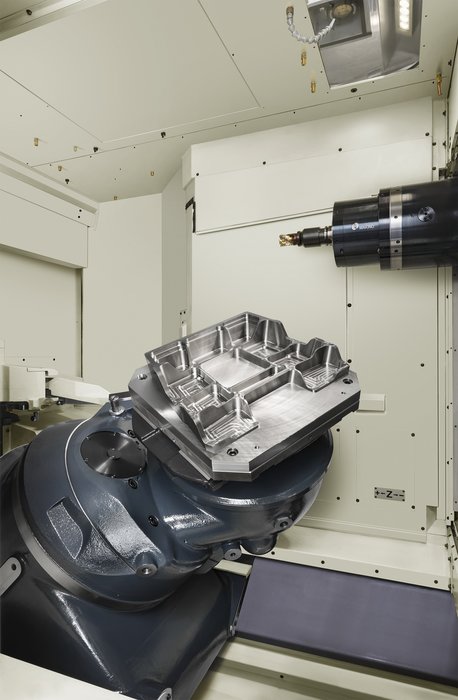 Image 2: Rigid and dynamic 5-axis table 
For further information please contact:
Andreas Walbert
Head of Marketing and Product Planning
Phone: +49 7021 503-201
E-Mail: This email address is being protected from spambots. You need JavaScript enabled to view it.
Website: www.makino.eu