www.industry-asia-pacific.com
Written on Modified on
Delta's Smart and Modular Battery Energy Storage System Flex E3 to Debut at Hannover Messe 2015 as Pillar of its System Integration Showcase
Hannover, Germany, April 13th, 2015 – Delta, a global leader in power and thermal management solutions, announced today its smart battery energy storage system Flex E3 will debut at Hannover Messe 2015 with its highly integrated and flexible architecture that offers homeowners and small businesses enhanced returns on renewable energy investments. Delta's core competencies in high-efficiency power electronics, building automation and in-house component integration enable its Flex E3 to offer energy conversion efficiency of 93% and a smart-grid controller platform for optimal-cost energy storage and consumption. Visitors can experience Delta's system integration capabilities as this showcase will present the Delta Flex E3, the energy monitoring software Delta Energy Online, and our electric vehicle (EV) charging solutions as a complete platform that underscores the company's commitment to promoting green buildings.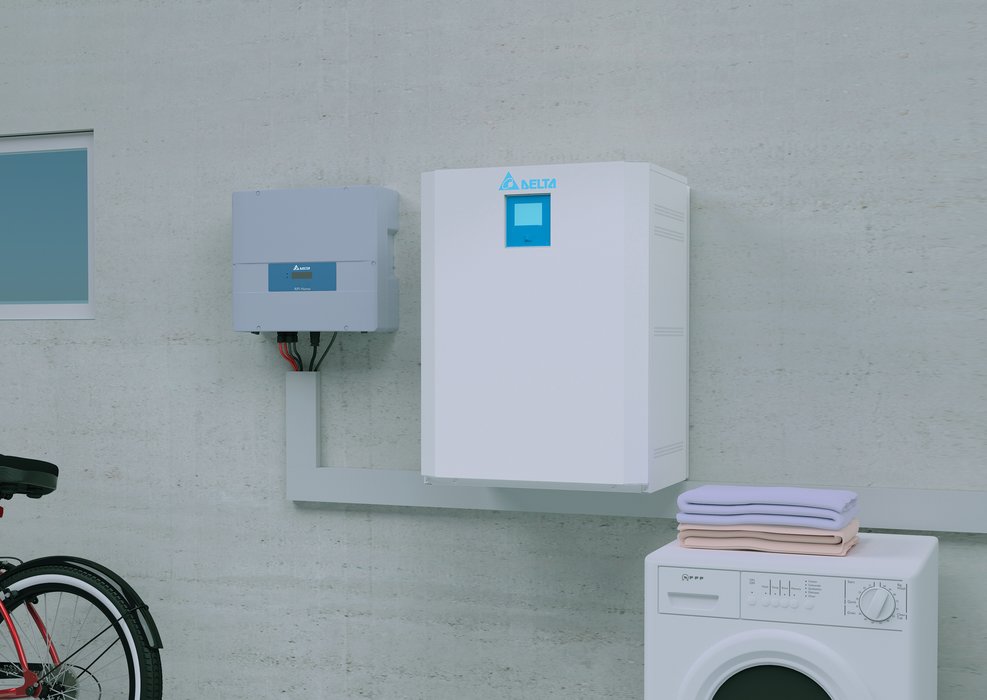 Delta Flex E3 provides a variety of system architectures for diverse customer needs with a single system offering storage capacity from 2.9 kWh to 3.7 kWh or with three systems in parallel offering up to 11.0 kWh depending on the selection of lead-acid or lithium-ion batteries. The system also features:
Delta's own AC inverters which offer >96% energy conversion efficiency and nominal continuous power output of 2.34 kW for a single system or up to 7.0 kW for a 3 systems in parallel configuration.
Remote monitoring and management through its communication capabilities that support Ethernet, RS-485, CAN bus interfaces.  Compatible with the monitoring software SOLIVIA Monitor (and its smartphone live app) for Delta's PV inverters.
Built-in customized energy management modes for different customer requirements.
Delta's exhibition at Hannover Messe 2015 highlights the company's capabilities in integrating systems for the Europe, Middle East and Africa (EMEA) region and India. Thus, the energy storage solution will be presented as a total platform for eco-friendly homes and businesses together with our energy monitoring software for buildings, Delta Energy Online, and Delta's AC Mini EV charging station. 
Delta Energy Online provides real-time and historical energy data display, data analysis reports, device management, system monitoring, and other functions for enterprises and homeowners that seek to implement and maintain a strategic approach for energy savings in their buildings. In addition, Delta Energy Online collects relevant data and supports a wide variety of I/O information, including electricity consumption, air-conditioning system operation, weather information, human detection and field control status.  Energy monitoring of multiple plant sites and multiple buildings on one single platform can facilitate online monitoring and management from enterprise headquarters. 
The EV charging station displayed in this section is the AC Mini a new wall mount charging platform suitable for electric vehicle user charging at home and workplace. It offers maximum output power of up to 7.4kW, a compact, light, and smart design and other key features:
Stylish ergonomic design
Robust ingress protection IP55 and vandal-proof casing
Easy for installation
Built-in network connectivity for back office management
Forward compatibility through over-the-air firmware upgrade
The significant energy-saving and plug-and-play qualities of our energy storage solution and Delta's commitment to Corporate Social Responsibility (CSR) and to the promotion of green buildings inspired the company to support a university team that participated in the 2014 Solar Decathlon Europe competition, held in Versailles, France.  Delta donated and helped integrate its high efficiency solutions for solar energy generation, storage, management and environment control systems to power the "Orchid House" constructed by the Unicode team of the National Chiao Tung University (NCTU) from Taiwan. 
Welcome to visit Delta's stand at Hall 11, stand A49 between April 13th and 17th, 2015, Hannover Messe, Germany.