www.industry-asia-pacific.com
Written on Modified on
PEPPERL+FUCHS FACTORY AUTOMATION
KE5 AS-Interface Module with Push-in Front Connector
19 mm in Width, Quicker to Install, Intelligent Display Solution How could AS-Interface be made even better? By enhancing the convenience with which connections are established, speeding up the installation process, and saving on space in the switch cabinet — space that can be expensive. The central digit display is easy to read, even in the dark.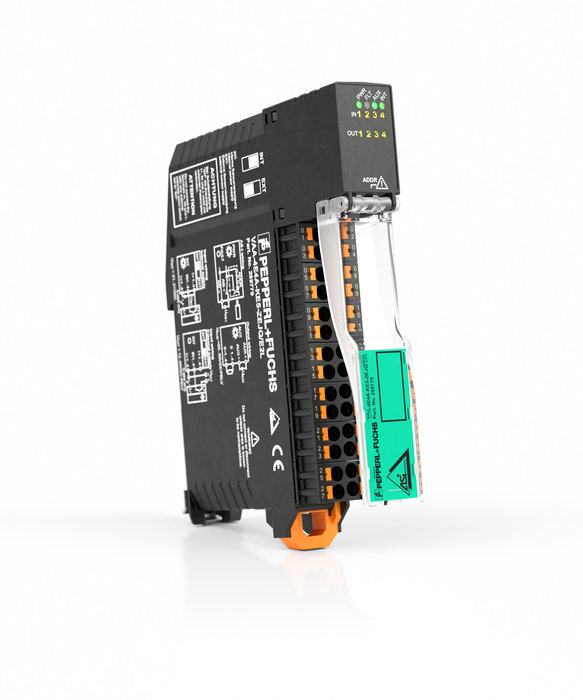 Captions:
28 push-in terminals over an installation width of 19 mm — a unique concept for AS-interface
The push-in connection at the front and individual plug-in terminals make installation quicker and easier
Clear display of active IOs using luminous digits. Clear function assignment in the cover and still all LED displays remain visible.
Pepperl+Fuchs is setting a new and innovative standard for AS-Interface IP20 modules in the form of an easily accessible push-in connection at the front of the device. The crimped wire ends can be inserted directly into the push-in terminals. The entire wiring harness is guided downward, meaning there is no need for the upper cable ridge/cable duct. This not only provides a sophisticated solution for the switch cabinet wiring, but also saves on space and ensures clarity. In switch boxes, modules featuring this connection can be mounted flush on the upper edge of a switch box, without impairing the installation. The transparent hinged cover, which can be snapped into place at multiple points, ensures a clear view through to the digit display at all times and enables the terminal functions to be color-coded internally. The terminals can be removed individually and are coded to prevent them from being mixed up, meaning devices can be replaced without any problems.
The IOs are displayed and diagnostics are performed centrally by means of backlit numbers. There is no need to assign labels to LEDs. This setup also ensures that information can be read even in dark conditions. Dual LEDs are used to indicate overload of an output on a channel-specific basis.
The terminal contacts for AS-i and AUX, which are bridged internally, achieve the full 8A, eliminating the need for double wire end ferrules at terminal points.
The sensor supply for the module can easily be switched between an internal supply from AS-i and an external supply through AUX. This reduces the range of devices required.
As a result of the reliable functional isolation between AS-i and AUX, decentralized system components can be safely deactivated using these modules by disabling AUX. This saves on costs and increases plant availability.
For those wanting increased efficiency when it comes to AS-Interface in the switch cabinet, the KE5 is the solution to choose.