www.industry-asia-pacific.com
Written on Modified on
Pilz at SPS Smart Production Solutions 2022 (Hall 9, Stand 370) – Complete automation solutions for safety and security - "Safe and secure" – Taking automation further!
Under the exhibition slogan "Be safe and secure", at the international exhibition SPS Smart Production Solutions (Nuremberg, 8-10 November 2022), Pilz will be focusing on automation solutions that cover both safety and industrial security on plant and machinery. Focus in terms of content: solutions for access management and safeguarding of mobile machinery and its danger zones.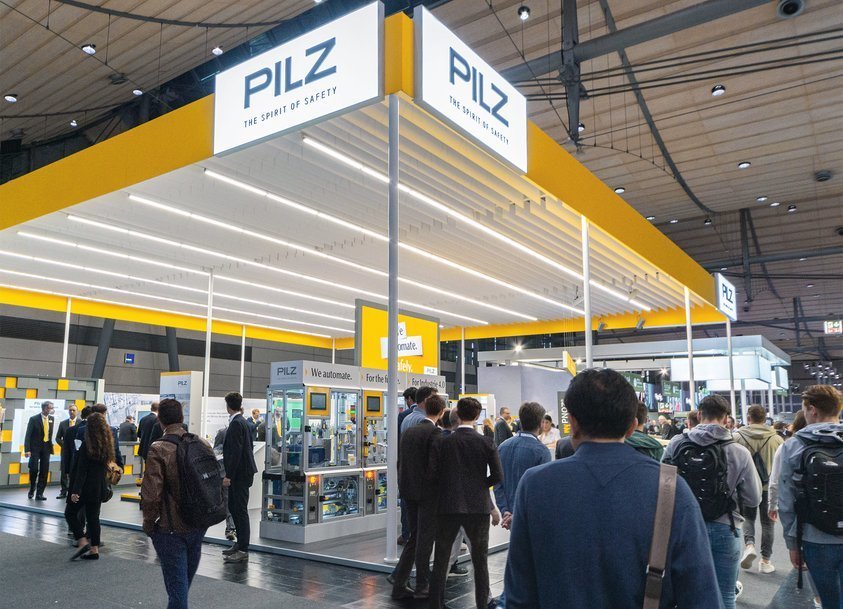 SPS 2022 will take place in early November, and visitors to the Pilz stand will experience how
automated guided vehicle systems (AGVS)
can be automated and operated safely, taking into account all the spatial and infrastructural conditions. The aim: to increase productivity in intralogistics.
In Nuremberg Pilz will also highlight new products from the operating and monitoring range for identification and access management (I.A.M.), as well as innovative functional features for the
safety light curtains PSENopt II
. On top of that there is an anniversary: 20 years ago in Nuremberg, Pilz launched its small controller PNOZmulti – at the time, "mouse-based wiring" was a groundbreaking innovation. The ability to create the safety circuit with an easy-to-use, graphics-based configuration tool – with no knowledge of a "higher" programming language – was a world first. Consequently, it bridged the gap between hard-wired safety relays and freely programmable safety controllers. Now, visitors to the exhibition can visit the Pilz stand in Nuremberg for information about innovations regarding the
configurable small controller PNOZmulti 2
: the product range now includes a new "Power" base unit and integrated security.
More base power and security onboard

As the heart of plant and machinery in efficient, flexible automation projects, safe controllers must manage a wide range of functions in a way that's safe, secure and performance-oriented. In Nuremberg, the automation company will be showing the latest safe, economical solution for small machines from the range of small controllers PNOZmulti 2: with a width of just 22.5 millimetres, the extremely narrow standalone base unit PNOZ m C0 has the structural properties of a safety relay, but is as powerful as a configurable safety controller. Also, a security key manager on the new standalone base unit encrypts the device data and configuration. It cannot be accessed without the required password – industrial security onboard!
Safe access: streamlined management of smart keys
A higher level of safety is required when the issue of access management presents itself: Intuitive operator systems, with which only authorised persons gain access to the application, are essential on enclosed machines and complex plants with danger zones. On its exhibition stand, Pilz demonstrates how users are supported via digital lockout/tagout. "Key in pocket" protects the operator from an unauthorised machine restart during maintenance. One or more users authenticate themselves on the reader unit PITreader using RFID transponder keys. An individual security ID is assigned, which is stored centrally in the safety controller. Once the maintenance work is complete, all persons log out and the security ID entry is removed from the safe list. This protects the machine from tampering and the operator from unintended restart. Flexibility when implementing identification access management (I.A.M.) is another thematic focus. Pilz will be presenting the new reader unit PITreader card unit: operators with RFID keys in the new card and sticker format use it to identify themselves. Added value: you can also use RFID-enabled cards that are already available within the company.
Mobile safety – And now also security!
Safety and security must not stop in the face of mobile applications; productivity in material flow must be reconciled with safety in the best way possible – whether for track-guided or freely navigating AGVS. In Nuremberg, Pilz will be presenting its new solution package for safeguarding AGVS: Pilz's complete solution comprises safe area monitoring with the safety laser scanner PSENscan for collision protection for human and AGVS, the modular evaluation units PNOZmulti 2 and myPNOZ, plus the industrial firewall SecurityBridge, which for the first time now also provides tamper protection on mobile applications. So security is now also "onboard"!
Simply a more flexible approach to muting
Muting enables material to be transported in and out of danger zones while production is running, so guaranteeing a smooth production process. On safety light curtains PSENopt II, for the first time the muting function can now also be configured with total flexibility. At SPS, Pilz will be presenting new types of muting arms, which are installed horizontally on the safety light curtain PSENopt II. Using a fine-granular grid setting, the sensors on the muting arms can be positioned individually with complete freedom. So users can configure the most diverse protected fields – using L-, T- and X-muting – and implement "their" requirements at all times. Using muting arms, production processes in the packaging industry, or even logistics, can be designed to be particularly efficient, avoiding unnecessary downtimes.
Further information on Pilz at SPS Smart Production Solutions 2022 is available
here
.
www.pilz.com