www.industry-asia-pacific.com
Written on Modified on
In recent years, a number of large-scale infrastructure projects in Hong Kong have been carried out one after another. The prospect of the construction industry is optimistic with a strong demand for manpower. Nevertheless, in the face of continuous huge amount of construction work, the industry not only needs to improve construction efficiency, but also to ensure the worker and site safety, thereby enhancing the overall productivity and cost-effectiveness.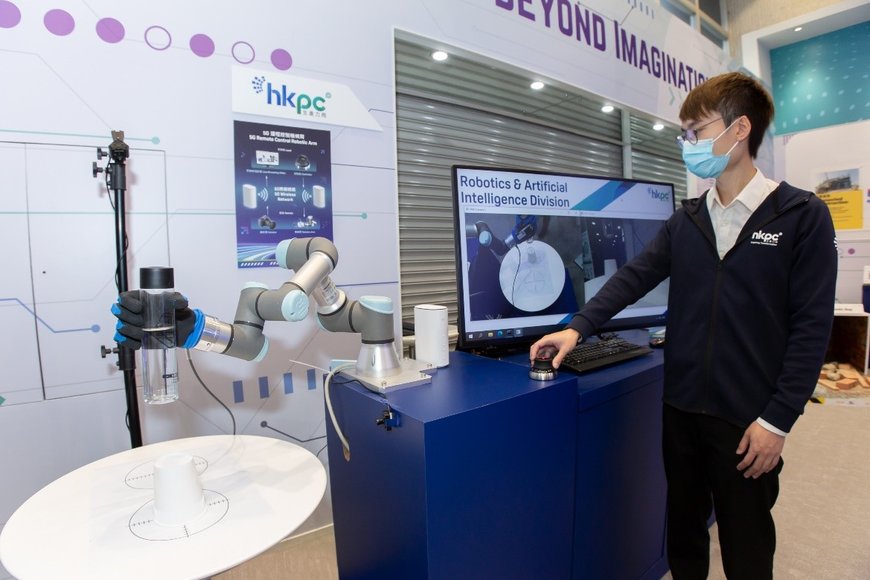 HKPC is committed to helping the construction industry resolve safety problems, leveraging 5G technology to help workers remotely control robotic arms to conduct high-altitude work, thus reducing the risk of work-related injuries and fatalities caused by industrial accidents.

The Hong Kong Productivity Council (HKPC) strives to promote productivity excellence through relentless drive of world-class advanced technologies and innovative service offerings to support Hong Kong enterprises. Being a key enabler of Industry 4.0 and Enterprise 4.0, HKPC offers comprehensive and innovative solutions to help different industries enhance efficiency and competitiveness. HKPC is also committed to assisting the construction industry in enhancing its work quality, efficiency and safety through innovative technologies. All these aim to facilitate the industry's development towards upgrading, transformation, and intelligent manufacturing.
HKPC acknowledges the huge increase in demand for construction services in Hong Kong, yet also notices of the prevailing hidden concerns in the construction process or operation mode. In this regard, through industrial consultation meetings, HKPC learned about the pain points of the construction industry, and actively integrated intelligent technologies such as data analysis, sensors, robots, image processing, artificial intelligence (AI) into the industry.
With its rich experience in intelligent manufacturing and technological knowledge in various fields, HKPC is determined to transform R&D ideas into practice, helping the construction industry break new ground, march towards high value-added development and enhance competitiveness. The following projects are good examples of HKPC's recent efforts to promote smart construction:
Real-time Collection of Site Ambient Air Data Improves Worker Health and Minimises Public Nuisance

A large amount of sand, dust and noise will be generated and degrading the air quality of the surrounding environment when carrying out various types of construction works. Construction workers not only have to perform more intensive physical work, but also bear the risk of suffering from respiratory diseases caused by inhaling a large amount of fine dust. In order to protect the occupational health of outdoor workers, HKPC has collaborated with Chun Wo Construction Engineering Co., Ltd. to develop the "Smart" Environmental Monitoring System based on Internet of Things (IoT) technology for construction sites, collecting data such as temperature, humidity, PM2.5 concentration via a bunch of environment sensors.
The data will be sent to the central monitoring system and updated about every 5 minutes, allowing managers to grasp the latest site conditions and make timely decisions. When the data shows that the air quality has deteriorated, an auto sprinkler system installed at the construction site will spray mist-like water to precipitate the particulate matters and alleviate workers' breathing discomfort, ensuring worker safety and health, and minimising construction risks and public nuisance. An outdoor display screen is also installed at the construction site, showing relevant sensor data, and weather forecast and warning signals from the Hong Kong Observatory in real time for workers' reference.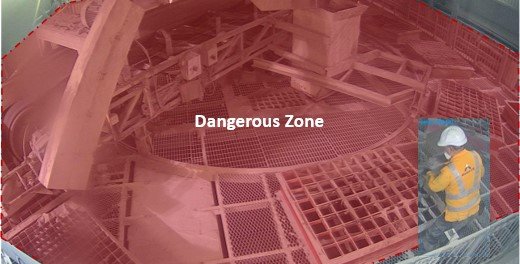 When a worker enters a dangerous area by mistake, or does not wear a reflective jacket or safety helmet, the AI Vision Control System for real-time site safety monitoring jointly developed by HKPC and the Alliance Construction Materials Limited will instantly issue warnings to increase workers' vigilance.

5G Robotic Arm and AI Real-time Monitoring System Reduce Fatal Accidents in Construction Sites

The risk of accidents in construction work is generally higher than other industries. Among the 25 fatal industrial accidents that occurred in 2021, the construction industry had been involved in 23 cases, with a ratio of over 90%. As many industrial accidents are related to outdoor and high-altitude work, HKPC has thus developed the 5G Robotic Arm, which can capture the movements and positions of workers' hands in real time through 5G technology. It allows workers to remotely control the robotic arm to perform dangerous work, thus minimising the risk of work-related injuries and fatalities caused by industrial accidents.
In addition, many workers lack adequate safety guidance and training, and might overlook the importance of safety equipment. Therefore, HKPC has jointly developed an AI Vision Control System for real-time site safety monitoring with the Alliance Construction Materials Limited. When a worker enters a dangerous area by mistake, or does not wear a reflective jacket or safety helmet, the system will instantly record and issue warnings to increase workers' vigilance and facilitate managers to take follow-up actions, thereby enhancing construction management efficiency.
Real-time Monitoring of Building Cracks with Drones Ensures Regular Maintenance and Structural Safety

The aging and degradation of buildings and civil infrastructure not only affects the appearance of buildings, but also reduces structural durability and bearing capacity, causing problems such as concrete spalling and exposed steel bars. The traditional building crack detection work is mainly carried out by workers manually, which is not only dangerous, costly and time-consuming, but also prone to human error. In view of these problems, HKPC and Hong Kong Smart City Technology Co., Ltd. jointly developed a Drone-based Real-time Crack Detection System for buildings, analysing the crack images captured by the drone through the developed AI deep learning algorithm, and instantly distinguishing and calculating the length, width and angle of dangerous cracks.
The data will be transmitted to the real-time monitoring platform at the ground station for the project team to assess the cracks, spalling, leakage and hollowing out of the external walls of the building remotely. The system not only accurately calculates crack data for early assessment of repair methods and budgets, but also increases detection flexibility and enables predictive maintenance for external walls. Drones can also replace frontline workers in high-altitude inspection work, eliminating the need to erect sheds and gondolas, thereby greatly reducing the risk of accidents.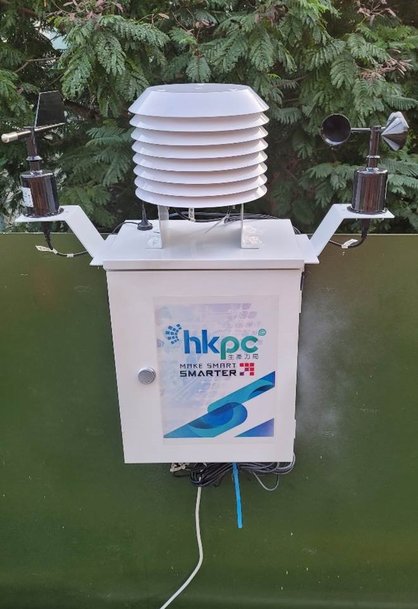 The "Smart" Environmental Monitoring Systemcan monitor the air condition of the construction site, collecting data such as temperature, humidity, PM2.5 concentration. It can also control theauto sprinkler system installed at the construction site to spray mist-like water to precipitate the particulate matters, alleviating workers' breathing discomfort and minimising public nuisance.

Concrete Skip with Remote Control of the Gate Improves Construction Efficiency and Safety Level

Concrete work is one of the key elements of on-site construction, and the concrete mixing and transportation process also lay the foundation for the success of subsequent construction. Recently, HKPC has collaborated with the Construction Industry Council (CIC) to develop a new version of Concrete Skip, aiming to make the on-site construction procedures more intelligent. Due to the large volume of traditional concrete skips, workers used to spend a hugh physical effort to control the gate manually in the past, which required high labour intensity and easily caused strains and sprains at work.
Yet, the newly-developed Mechanic Concrete Skip allows workers to remotely control the gate and flexibly control the amount of concrete to be conveyed, which not only reduces manpower or human error, but also minimises the chance of work-related injuries and improves safety level. After conducting a study on the capacity of concrete skips, HKPC and CIC also proposed to change the 2 cubic meters concrete skips commonly used in the market to 2.5 cubic meters, aiming to greatly increase the single delivery volume of concrete so as to reduce transportation costs, shorten the construction time and save energy, as well as improve overall construction efficiency.
Developing a smart city is the future vision of Hong Kong, in which an intelligent construction industry plays an indispensable role. As the development costs associated with innovation technologies decrease, technology is no longer a high-end technology out of reach for the industry, and enterprises are becoming more receptive to adopting new technologies. As a key enabler of technological innovation, applied technology and value creation, HKPC has always been committed to "popularising" high-end technologies to provide the industry with affordable and highly practical technological solutions, thus achieving commercialisation of R&D results for Hong Kong.
In future, HKPC will continue to integrate technologies used in different fields and promote the adoption of advanced technologies in the traditional construction industry, improving the construction project management model, construction efficiency and site safety level, as well as working together to realise a new era of "smart construction sites" by driving the upgrading and transformation of construction industry.
www.hkpc.com