www.industry-asia-pacific.com
Written on Modified on
Yaskawa Electric Co., Ltd. announces the launch of the JL-L000A communications ASIC for use with the MECHATROLINK-4 and its transmission efficiency becomes four times that of the MECHATROLINK-III. JL-L000A is an integrated circuit (IC chip) mounted on controllers for various electronic and industrial equipment.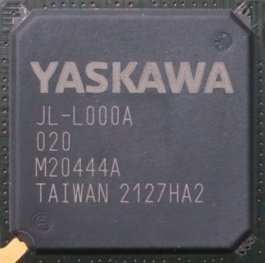 Number of control axes per transmission cyclee communication ASIC "JL-L000A"

Yaskawa launches the JL-L000A communications ASIC that supports the MECHATROLINK-4, a new generation industrial network achieving four times the transmission efficiency
1. Aim of the launch

Yaskawa has set a goal of realizing a new industrial automation revolution in its long-term business plan "Vision 2025", and has been proposing the i3-Mechatronics solution concept, which aims to improve productivity and create zero downtime lines through digital data solutions by visualizing production sites. Yaskawa has been providing communication ASICs compatible with MECHATROLINK, and in order to enhance the integration aspect of i³-Mechatronics, we have developed ASICs compatible with MECHATROLINK-4, a new generation industrial network.
The MECHATROLINK-4 takes over the functionality, performance, and usability of the MECHATROLINK-III and improves transmission efficiency and adds multi-master functions to achieve more efficient and advanced control. By combining this product with the host CPU, customers can easily develop MECHATROLINK-4 compatible devices (master/slave). By utilizing more efficient and highly controllable features, this will contribute to customers' further development of high-performance products.
2. Main Features
1) Development environment of products compatible with both MECHATROLINK-III and MECHATROLINK-4

The combination of this device (JZPMC-MD001A) and the host CPU enables customers to easily develop MECHATROLINK-4 compatible products. The MECHATROLINK-4 can achieve approximately four times the transmission performance under the same conditions as the MECHATROLINK -III.
The developed product supports both MECHATROLINK-III and MECHATROLINK-4 communications and is switchable.
2) High efficiency and flexible system construction utilizing the features of MECHATROLINK-4
①High-efficiency communication
The highly efficient communication procedure enables precise control in a short transmission cycle as well as connection of many slave devices in the same transmission cycle, contributing to larger scale and higher accuracy of devices. By allocating free communication bandwidth to IP communication, customers can integrate general-purpose communication devices into the same network.
②Multiple settings for the transmission cycle

Since the transmission period can be freely set for each slave device, there is no need to match the maximum transmission period of all connected slave devices, and each slave device achieves maximum performance. Since the transmission frequency can be decentralized among slave devices, consequently the transmission cycle can be shortened.
③Multi-master (Decentralized control) *1

Multiple master devices can be connected to the same network. This contributes to higher speed through the decentralization of the master load, improved development efficiency through the modular design of equipment, and flexible line construction.

*1 Note that this is a feature under development and will be addressed in an update to the access driver.
3)Support for PCI Express

PCI Express is used for the interface between the JL-L000A and the host CPU, enabling high-speed data transfer.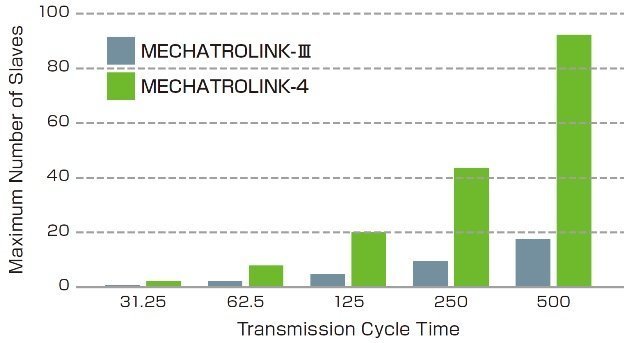 Number of control axes per transmission cycle

3. Product Structure

This product consists of the communication ASIC "JL-L000A" and the serial Flash (MX 25 L 6433 FM 2 J-08Q-Y00) that stores the boot firmware for transferring the MECHATROLINK communication firmware to the JL-L000A.

4. About MECHATROLINK

MECHATROLINK is an open industrial network developed by Yaskawa to connect controllers and various components. It has been adopted by many equipment manufacturers and end users because it enables high-speed communication and guarantees of synchronization, making the system faster and more functional. MECHATROLINK has evolved into MECHATROLINK-II and MECHATROLINK-III for faster communication and enhanced functions. The communication specifications of the MECHATROLINK-4, developed as a next-generation network, were released in March 2019. Yaskawa has also commercialized controllers and servo packs compatible with these specifications.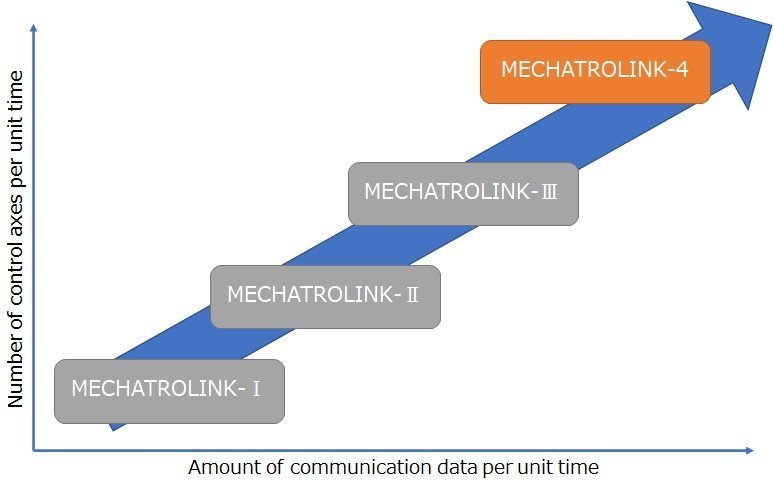 Image: the evolution of MECHATROLINK

5. Main Applications

Masters and slaves compatible with MECHATROLINK -4 and MECHATROLINK-III can be developed according to the customer's intended use rather than a specific application.
6. Sales Plan

Sales Commencement Date: July 2022
These ASICs are sales for MECHATROLINK * 2 members. Membership in MECHATROLINK Association is required to purchase this product.
*2 Note that the MECHATROLINK Association consists of 3,531 development members and users of MECHATROLINK compatible products as of March 31, 2022, and is operated mainly by 8 managing companies including Yaskawa Electric, M System Engineering Co., Ltd., Oriental Motor Co., Ltd., Keyence Corporation, Schneider Electric Holdings Co., Ltd., NEC Corporation, Yokogawa Electric Corporation, and Texas Instruments Incorporated.

MECHATROLINK Association HP:
http://www.mechatrolink.org/en/index.html

www.yaskawa-global.com