www.industry-asia-pacific.com
Written on Modified on
A clever addition to EMKA's portfolio: With the screw-on hinge without hinge pin from the 1056 program, which is now available, we offer our customers a smart alternative to conventional hinges. The clou: The screw-on hinge does not need the usual hinge pin.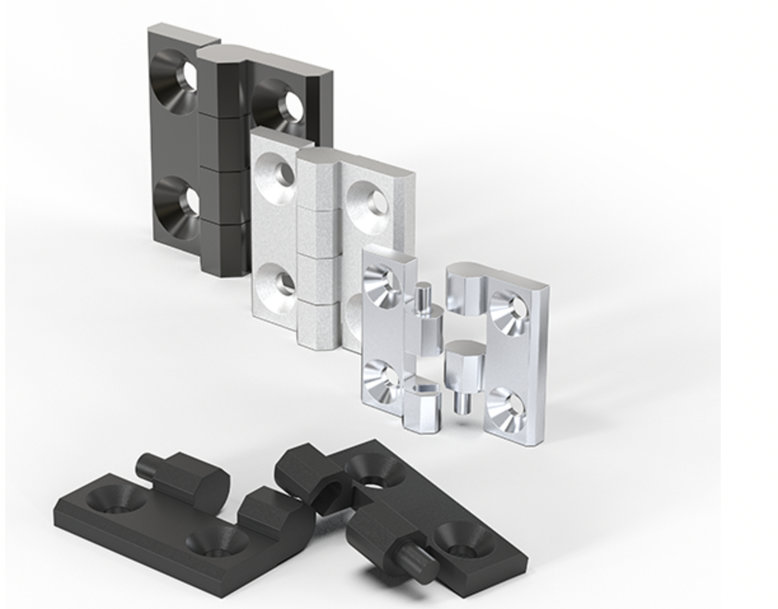 Design-protected hinge without a pin for tool-free assembly

On the one hand, this results in significant cost advantages compared to conventional screw-on hinges with hinge pins.
On the other hand, the design enables tool-free assembly within a few seconds. To do this, the two identical hinge halves are first inserted into each other in the 270° position. Then the fitter brings the assembled hinge halves into the intended 180° position.
Both halves are already firmly connected to each other, even without a hinge pin. In the 180° position, the hinge is now fixed to the intended application area with countersunk screws.
Hinge with identical hinge halves is available in three different sizes

Depending on the customer's requirements, EMKA supplies the hinge already pre-assembled or as individual hinge halves for the self-assembly described above. The hinge with its design-protected hinge halves is available in three different sizes: 60 x 60 mm (M8), 50 x 50 mm (M6) and 40 x 40 mm (M5).
Several materials and different surfaces available

Customers can also choose from four different materials and several surfaces: Polyamide (glass-fibre reinforced plastic), zinc die-cast (black powder-coated or chrome-plated), aluminium (die-cast; black powder-coated or anthracite anodised) and stainless steel (investment casting; ground or industrially polished).
While polyamide, the lightest material available, impresses with its high elasticity, tensile strength, rigidity and hardness, zinc die-casting plays to its strengths with high strength and durability (fatigue resistance).
The aluminium hinge, on the other hand, scores with its low weight and extreme resistance to corrosion and weathering.
The stainless steel version also offers the latter. It also convinces customers with its elegant appearance and the possibility of being used even with thin walls.
www.emka.com