www.industry-asia-pacific.com
Written on Modified on
To ease the start of a challenging day, the first way for many of us leads to the coffee machine. The gentle hum of the fully automatic coffee machine is a familiar sound, and with the rising scent of coffee and the first sip, the day can finally start. For most of us, the morning coffee is the drive for a successful day.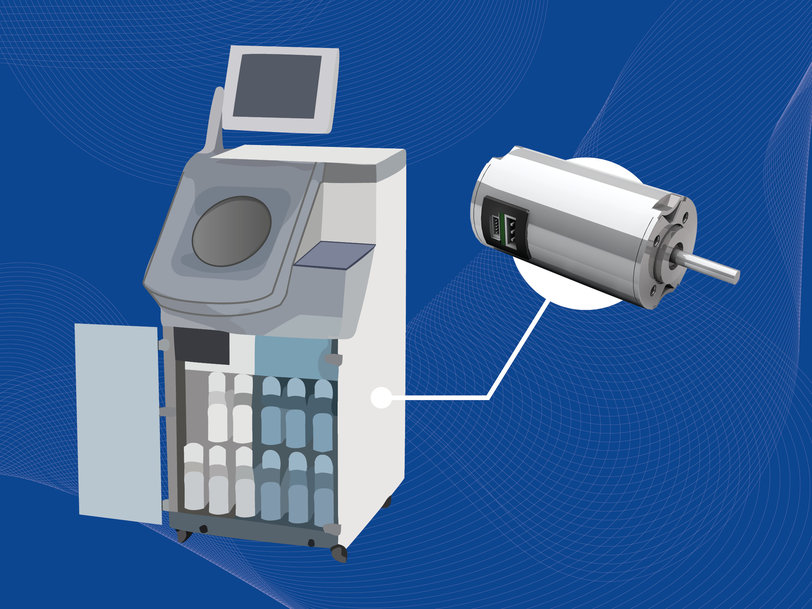 Pumps – daily heroes need a reliable drive solution

This becomes possible with the simple click at the coffee machine and the pump installed in it. Pumps are important supporters and modern life as we know it would not be possible without their use.
The versatile pump applications in the industrial automation

In reproduction technology and additive manufacturing, these little supporters perform many important functions, such as regulating the supply of fluids or cleaning print heads. In process measurement and analysis technology, pumps can prevent the leakage of dangerous gases and vapors or control processes to make them energy-efficient and environmentally friendly. In the food and beverage industry, pump solutions convey and meter the desired medium with maximum precision and thereby enable a high product quality. In key technologies such as semiconductor manufacturing, pumps have also become indispensable and are used to convey liquids, generate vacuums for wafer handling and extract chemical gases. In agriculture, on the other hand, they are used for metering fertilizers or pesticides and are thus an important component for a successful harvest.
Since pumps mostly do their work in the background, we often do not appreciate their reliable work. However, many industries and sectors could no longer operate without pumps and their technology. What coffee is to many people, the electric motor is to pumps - the drive. Electric motors are an important component and reliably drive pumps. The basic requirements for the motor are freedom from maintenance, smooth and quiet running, reliability, low and pleasant noise behavior, and a correspondingly stable starting torque. In critical applications, the demands on the motor are even higher.
Dunkermotoren are excellently suited for the versatile applications of pumps. The holistic modular system offers the possibility of configuring an economical drive solution. The suitable electric motor can be selected and be combined with other components such as gears, brakes, electronics or encoders if required. In this way, the versatile requirements are covered.
Pump applications in medical technology

In medical technology, Dunkermotoren are mainly used in membrane, peristaltic or dialysis pumps, as well as in pump solutions for the industrial automation such as gear pumps.
For membrane pumps, the small, brushed motors of the GR 30 series have proven themselves as a reliable drive solution. The constructive design with ball bearings and optional interference suppression enables particularly quiet and smooth pump operation. With a nominal torque of up to 3 Ncm and a nominal speed of up to 3,600 rpm, this small power package offers high power density for compact applications.
For mobile pump applications, the motor must be suitable for battery operation. Negative pressure wound therapy (NPWT) to support wound healing is just one example for the use of a battery-powered pump. The pump is applied to the wound and a negative pressure is generated, which sucks off wound secretions and thus supports wound healing.
To generate the negative pressure, a high motor speed is required for a short time. To keep the vacuum constant afterwards, a low speed is sufficient. For portable systems, a light weight and a small installation space of the motor are required. All these requirements are met by the brushless motor series BG 32 from Dunkermotoren. With a weight of just 150 g and a diameter of 32 mm, this highly dynamic, 3-core BLDC motor achieves rated speeds of over 4,000 rpm. Due to available supply voltages of 6-24 VDC, the motor is the perfect choice for battery-powered applications. The brushless technology enables maintenance-free operation of up to 20,000 hours and thus ensures carefree use of the pump application in daily hospital routine.
For high-precision pumps with a high repeatability, the requirements for the drive unit are even more complex. For the analysis of chemical substances, it is often used the method of chromatography where the different individual components of a substance are separated and analyzed. A low-pressure pump is used for this purpose, which is largely responsible for the analysis results. To realize the required accuracy and reproducibility, the pump drive must work very precisely. To meet these requirements, Dunkermotoren has developed a customized drive using a brushless motor of the BG 42 series with optimized cogging torque in combination with an RE 30 incremental encoder.
Pump drives according to DIN EN 50115 for railway applications

Due to their very high reliability, Dunkermotoren are ideally suited for safety-critical applications. One example for an application-specific motor which has been realized is used on a train. The motor drives a hydraulic pump that builds up the brake pressure. As it is a safety-relevant component, the motor must meet the highest requirements according to the railway standard DIN EN 50155. In addition to very high reliability, the motor must be able to withstand temperature fluctuations of -40°C to +85°C and a relative humidity of +95%. Resistance to various substances such as salt and oil mist, as well as electromagnetic compatibility in accordance with EN 50121-3-2 are also essential requirements. The motor must withstand the extreme conditions maintenance-free over a service life of 20,000 hours. In cooperation with a global supplier for rail applications, a brushless motor of the BG 75 series with integrated electronics was developed, which meets the full range of the above-mentioned requirements.
Networking and communication are the new success factors

Besides the high precision requirements, networking and communication, as well as data evaluation of applications are becoming increasingly important. Under nexofox, Dunkermotoren offers a holistic solution program of digitally networkable motors including the corresponding infrastructure of gateway and cloud. With this, Dunkermotoren is breaking new ground and is becoming a full-service provider. With nexofox, Dunkermotoren is ideally equipped to meet the requirements of the IIoT and Internet of Medical Things (IoMT).
Author: Holger Tröndle, Key Account Manager Healthcare & Laboratory, Dunkermotoren GmbH

www.dunkermotoren.com