www.industry-asia-pacific.com
Written on Modified on
Cost-effective, ceiling-mounted FANUC SCARA robot eliminates dead zone
The new ceiling-mounted, fast and precise FANUC SR-3iA/U robot eliminates the so-called 'dead zone' that conventional SCARA robots typically suffer.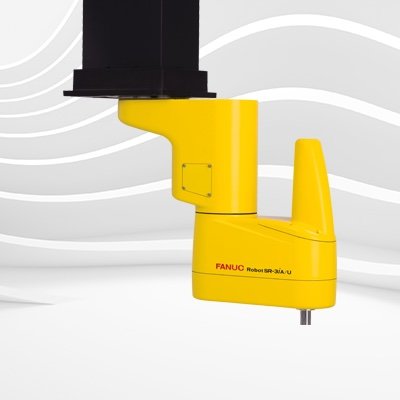 Furthermore, the design and specification of the SR-3iA/U make it a cost-effective, easy-to-configure alternative to more costly delta robots in a host of assembly, packaging and material handling applications.
There are often areas within the working envelope of a robot that the end of the arm cannot reach. Such areas are termed dead zones. Overcoming this issue with the SR-3iA/U was a major development goal for FANUC engineers. Thanks in part to advanced software, the full volume of the cylindrical working area of the new robot is completely accessible in linear or Cartesian mode.
"This factor is particularly important in applications that involve the tracking of randomly placed parts on a conveyor, for example," explains Ralf Völlinger, Vice President of Robotics at FANUC Europe. "Typically, such tasks rely on a camera that takes an image, with the robot subsequently picking the part for packing or transfer to an assembly station. With the SR-3iA/U there are no motion restrictions across the robot's entire working area, ensuring the 100% success of this application."
Simple integration
Another important advantage of the FANUC SR-3iA/U 4-axis SCARA robot is its 700 mm working diameter (350 mm reach), which is close to that of many delta robots. As delta robots are generally more expensive, the SR-3iA/U represents a highly cost-effective solution for engineers building new production lines or machines. The robot also offers particularly easy integration thanks to its small frame size in comparison with a delta robot, while fully integrated services within the arm, such as I/O, 24VDC, solenoid valves and air lines, prevent interference contours with peripheral devices. In addition, a SCARA robot consumes far less energy than a delta robot, sometimes four or five times less, making it an altogether smarter solution.
Applications set to benefit from the ultra-compact FANUC SR-3iA/U include battery cell and solar panel assembly, as well as all typical electronic and mechanical assembly tasks across industry. The push-down force of the SR-3iA/U is 150 N. Of course, the robot can also fulfil a myriad of 'pick and place' material handling and packaging applications thanks to its very high speed capabilities. The standard pick speed time for a 1 kg payload is 0.5 seconds (120 picks per minute). Despite this high speed, there is no compromise in precision: the SR-3iA/U provides ±0.01 mm repeatability in the linear axes and 0.004° wrist rotation repeatability.
The SR-3iA/U will later become available for clean-room applications that might include the assembly of syringes in the pharmaceutical sector, for example. Subsequent versions will also include a model for secondary food applications, incorporating options such as IP65 protection rating, food-grade grease and anti-rust paint. Notably, a full plastic cover for the robot's Z axis makes the robot easy to clean.
Impressive weight-to-load ratio

Among further advantages of the SR-3iA/U is its good weight to load ratio: the robot weighs just 27 kg but can carry loads up to 3 kg thanks to its robustly engineered arm (allowable load moment at the wrist is 0.06 kgm2). The wrist offers ±720° of motion as standard (3000 °/s speed), with continuous rotation available as an option.
The robot provides complete compatibility with FANUC's latest R-30iB Compact Plus controller. Furthermore, a web-based user interface (iRProgrammer) provides intuitive, simple programming via tablet or PC, dispensing with the need for an iPendant Touch.
Last but not least, users of the SR-3iA/U will discover that FANUC is able to bring a complete portfolio of intelligent technologies to the SCARA market via vision systems, integrated logistics software and a wide range of further FANUC functionalities.
www.fanuc.com