www.industry-asia-pacific.com
Written on Modified on
At the Freiburg location, technology company Continental is pooling its expertise in functional printing in a Technology Center with state-of-the-art machinery.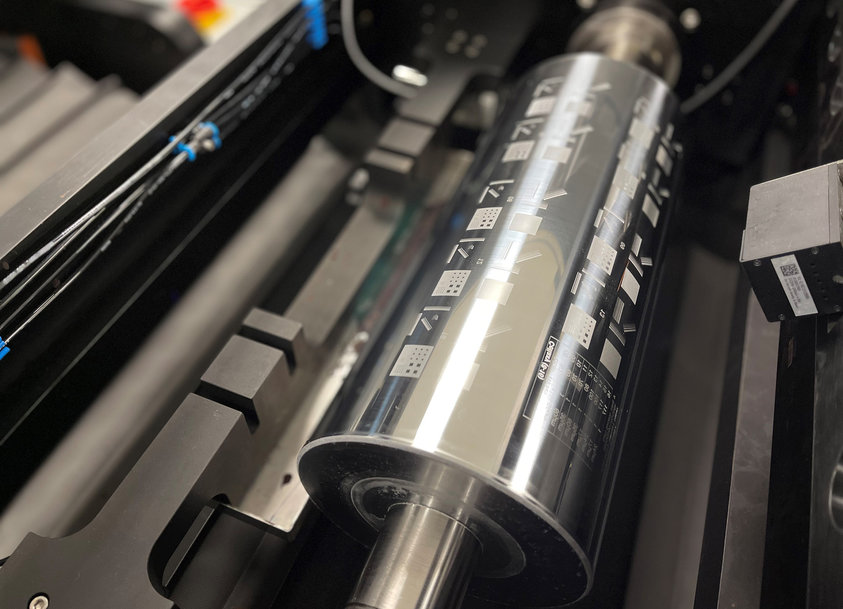 Precision tools: Laser-engraved gravure cylinders are used in the Freiburg Printing Center, among other things.

At the heart of this is a printing machine specially developed for functional printing. It enables the use of numerous printing processes and can process a wide range of materials – from artificial leather to metal, from paper to rubber. So far the company has invested around €2.5 million in its location in the German state of Baden-Württemberg.

Prototypes for applications and services of the future: from intelligent packaging with touch displays and biosensors, printed electronics to futuristic car interiors
The latest technology and cooperation partners facilitate innovation: collaboration with the Fraunhofer Institute and repro and printing form specialists Janoschka and Flex-Punkt
Experts look for solutions for heating, light conduction, antenna printing and sensor technology
In functional printing, various products are manufactured using the printing process. The Center for Functional Printing Technologies creates prototypes of intelligent products. By integrating functions and the associated services, they open up new potentials and pave the way for the technologies of the future. "They enable predictive maintenance concepts all the way through to automatic ordering processes for spare parts in Industry 4.0. But they are also the basis for innovative vehicle interiors," explains Dr. Erhard Barho, who heads the functional surface solutions area at Continental.

All printing processes, materials and finishing techniques in one place
In Freiburg, printing and process specialists, as well as experts in circuit design, develop and test processes in order to integrate these functions into products, for example in the printing and packaging industry, as well as for the automotive industry. "We bring together all printing processes, all materials and all finishing techniques in one place," emphasizes Armin Senne, head of the Center. "Up to now, customers have had to look for different partners for the individual tasks and coordinate them. We now offer a one-stop shop with everything that is possible as regards the future of the printing industry."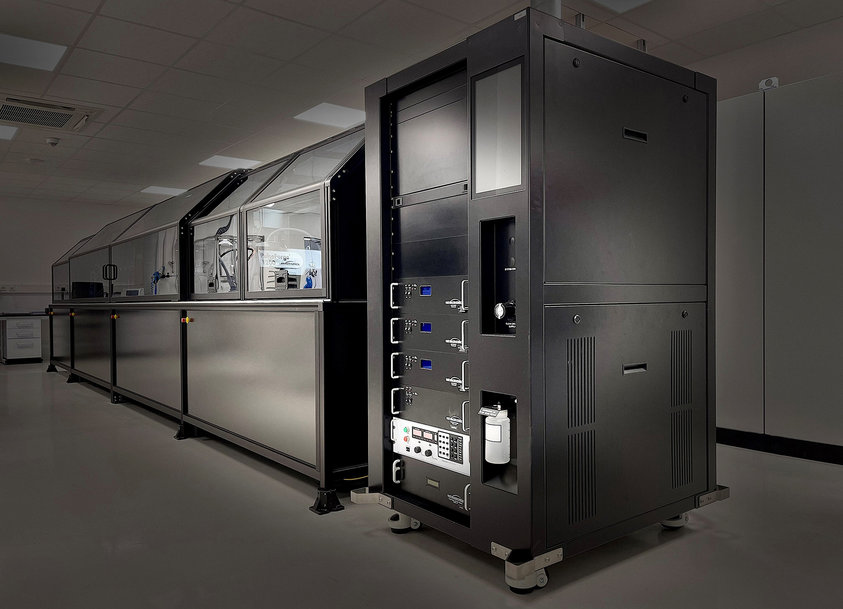 At the heart of the Center for Functional Printing Technologies in Freiburg is a machine specially developed for functional printing. It enables the use of numerous printing processes and can process a wide variety of materials.

"The starting point for the development of new technical applications for us is the benefit to customers," says Barho. Renowned cooperation partners help with this: the Center is located in close proximity to the Fraunhofer Institute. The long-standing collaboration with repro and printing form specialists such as Janoschka and Flex-Punkt will also be continued and expanded here. The focus here is on topics relating to the future of packaging, such as smart packaging with a touch display or biosensor technology. Food packaging that records when it is opened for the first time is also conceivable.

Sensors for predictive maintenance concepts
The specialists, engineers and software developers in Freiburg are looking for new solutions and applications, particularly in the areas of heating, antenna printing, and pressure and temperature sensors. Another example is the topic of "light conduction," which already plays an important role in many areas. In the future, optics in the micrometer range could generate holograms that indicate for certain whether a product is an original or a copy.

Examples of predictive maintenance concepts in Industry 4.0 include elongation sensors embedded in conveyor belts that detect the need for replacement at an early stage, sensors and antennas in hoses that measure internal wear, and sensor air springs that indicate pressure. Internal start-ups within the group are also using the Printing Center for technology and product development.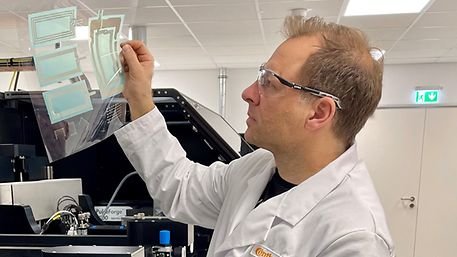 Checking the print quality: Laboratory manager Jürg Schleuniger.

There are already more and more sensors and antennas in the car that receive and process signals. "This trend will continue," Barho is convinced. His team's goal is to bundle the sensors and read them out together. For example, wiring harnesses in the car could be replaced with electrically conductive inks as conductors on surfaces. This would save a significant amount of weight.

Applications for end customer products are even conceivable. This means that by applying a voltage to a window film, it is possible to switch between light and dark or transparent and opaque. It is also possible to integrate a heating function into a decorative foil with the appearance of a wood panel. In both cases, the film is printed with a conductive and coatable polymer compound. The printed heating solutions provide heat within a few seconds, without any waiting period.

The close proximity of the Center for Functional Printing to the Continental location in Herbolzheim also promotes close collaboration with the surface specialists based there. For example, a heatable backrest in the rear-facing reclining seat is included in their planned new concept car. "Like the spider, we are right at the heart of all activities in the network," says Barho, summing up the function of the Printing Center. "Through our network, we bring the right people together and act as an internal incubator. In this way, we are creating an unprecedented space for opportunities for our customers, in which we can work closely with them on new concepts and future issues."

www.continental.com