www.industry-asia-pacific.com
Written on Modified on
Delta Reveals Total Edge and Cloud Data Centre Infrastructure Solutions at CEBIT 2018
Delta, a global leader in power and thermal management solutions, announced today its Datacentre Infrastructure Solutions for cloud and edge data centres are on display at the world's leading digital innovation tradeshow, CEBIT 2018, to serve as the very foundation of the digital economy — the focus of CEBIT 2018. The modular DPH series and the monoblock DPS series UPSs, respectively with 500kVA and 600kVA capacity each, satisfy the high power needs of cloud data centres while the brand-new RT series UPSs offer flexible configurations of 10-20 kVA for edge data centres. The new Li-ion Battery Solution for UPS systems, which boasts leading energy storage footprint with up 51.8kWh in a 19" cabinet, is an ideal solution to substantially reduce the total cost of ownership (TCO) in data centres.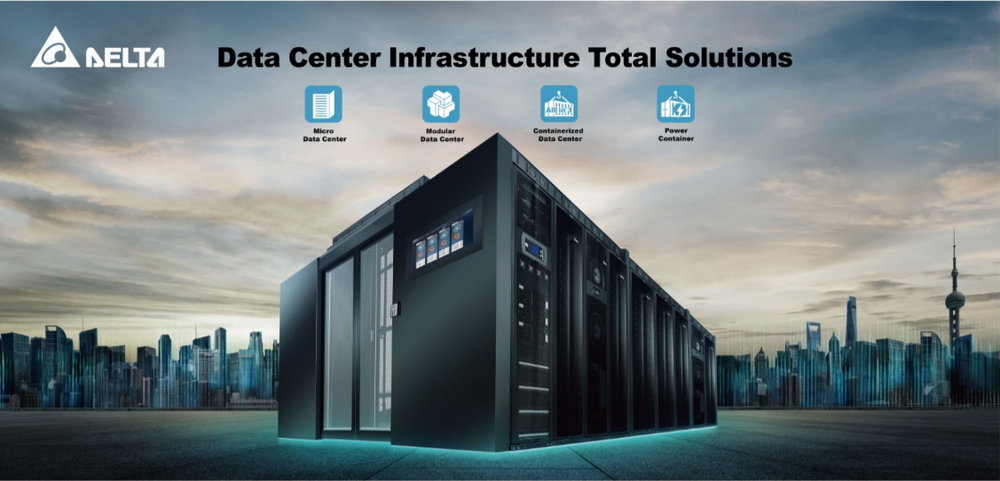 "As the IoT megatrend continues to expand rapidly, we're seeing a lot of data centre resources moving to the edge. With billions of devices generating vast amounts of data that has to be stored and processed, it is impossible for centralized data centres to accommodate all the traffic. A global leader in colocation services in the Asia Pacific region, for instance, recently selected our power container solutions for their edge network," said Jackie Chang, Delta's President & General Manager for Europe, Middle East & Africa (EMEA).
Visitors at the re-imagined international conference will see exciting developments for the Internet of Things (IoT), virtual reality (VR), and artificial intelligence (AI). IoT is pushing data centres to the edge, closer to end users. On the other hand, enterprises continue to outsource more of their IT and infrastructure to the cloud. These technologies require advanced data centre power, cooling and management infrastructure as soon as they are introduced on an edge or larger scale.  
Delta's total data centre infrastructure design concept provides an efficient and reliable backbone for digitization as the overall market shifted to fewer but larger data centres. However, as IoT drives data centres to the edge, they need to become more adaptable, scalable and flexible. The two trends that are defining the data centre infrastructure market right now — small, decentralized edge computing data centres and the increasing size of large centralized data centres — are both reflected in Delta's product portfolio on display at this year's CEBIT.
Delta's exhibition at Hall 12, stand D113 offers the following highlights:
Innovations for cloud data centres
•    High-power UPS systems as modular designs
(DPH 500kVA)
and monoblock
(DPS 600kVA)
units for high power densities, high energy efficiency, and high reliability.
•    A newly-launched energy storage solution Lithium ion Battery for best total cost of ownership (TCO) and battery management.
•    The Busway system BR series with reliable low voltage power distribution and flexibility.
•    Delta's InfraSuite Manager (DCIM), which provides comprehensive monitoring and management features for the data center's entire infrastructure including power, energy efficiency, IT assets, capacity, and work orders.
•    The AGC7648 series switches from Agema, a Delta product line of Open Networking Solutions for data centres, services providers and enterprises.
Modular edge designs for rapid deployments
•    Delta's
modular data centre
solutions deploy quickly and offer the highest flexibility of aisle width ranging from 600mm to 1200mm. Standardized modules ensure high reliability.
•    The brand-new
Delta RT 10-20kVA
and
HPH 200kVA UPS
series provide high efficiencies of up to 96.5% for small-to-mid-sized edge applications. Delta's RT 10-20kVA UPS also features the smallest size in its class (20kVA/2U) for total integrated power solutions.
•    Delta's precision cooling
RowCool series
offers the world's most effective cooling solution for 600mm cabinets with variable fan speed control technology for lower energy consumption.
Charles Tsai, head of the Mission Critical Infrastructure Solutions (MCIS) Business Unit (BU) at Delta, said "Unsurprisingly, these two trends — Cloud and Edge — are also evident in what our customers are doing with our solutions here in Europe. Last year, for instance, Atos, a Spain-based global leader in digital transformation, implemented our modular UPS solutions to protect their MW data centre. Welcome to discover our leading technology and full product portfolio on display at CEBIT 2018."
To find out more about Delta's energy-saving data center infrastructure solutions, visit the company's exhibition stand (D113) in Hall 12 at CEBIT 2018 in Hannover, Germany from June 12 to 15. For up-to-the-minute news on Delta's CEBIT exhibition, follow the hashtags #CEBIT18 and #DeltaEMEA. You can also visit
videos on YouTube
.