www.industry-asia-pacific.com
Written on Modified on
Paving the way: Take Store Share View to the Cloud
Bringing data to the cloud and for instance using it to enable scenarios for collaboration – these days this is more compulsory than voluntary. But many companies are asking questions about the correct path to take and the right "dosage". Eplan is now offering support and has developed Store Share View. This in-house solution based on Microsoft Azure is a service that brings Eplan Projects to the cloud. At the same time it is also the foundation for future cloud-to-cloud connections. As a first step, at the Hannover Messe Eplan is presenting the part of Store Share View with which projects can be viewed, reviewed and commented upon via redlining workflow. From this starting point forward, Eplan, the solutions provider headquartered in Monheim, Germany, accompanies its customers step by step on the pathway to the cloud. Users benefit from a central data source that makes Eplan data available in a simple way for everyone involved in a project (including for downstream processes). Access to the data is universal: from every end device, from every location, and independent of an Eplan installation.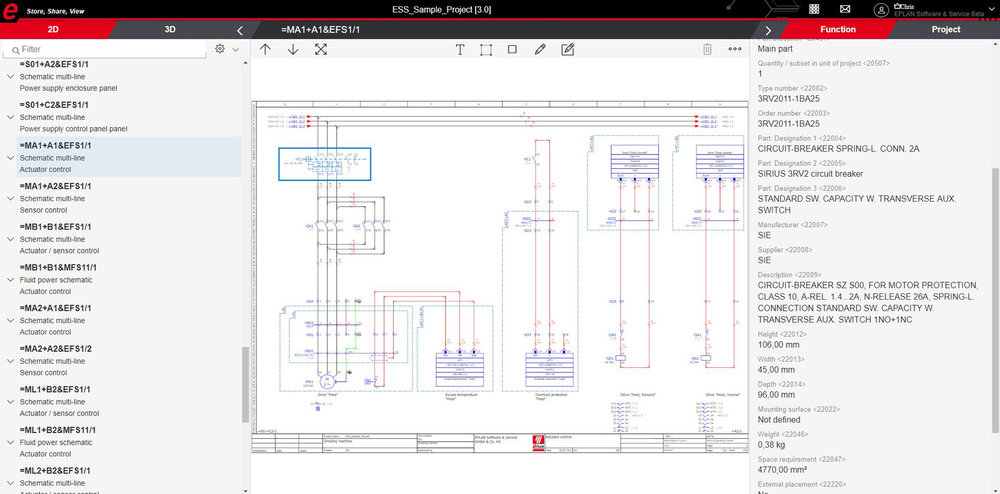 Store Share View Navigator.jpg: The new integration to the Eplan Cloud is available starting with Version 2.8. Designers can make the schematic project available in the cloud from the platform for downstream company processes.
The name Store Share View already reveals what awaits customers on their journey to the cloud: Eplan Projects can be saved in the cloud (Store) and are available for all project participants (Share) to see (View) at any time. It doesn't require any sort of installation – not even the traditional Viewer installation which was required previously. Log in, view the project, make comments using the redlining function, and mark the work progress – it's this easy for users to take their first steps in the cloud project envi-ronment. The system is designed so that all the neces-sary Eplan Project information is available in the cloud as a central information source. The engineering knowledge remains protected from unauthorised access by managing the access options. Rights assignment itself resides with the customer's respective department.
This is naturally just the first step that Eplan Platform users take to the cloud – but it is a very important one. In the past, when providing schematic information to downstream departments (such as control cabinet engineering or commissioning) thousands of pages of documentation had to be printed on paper. A paperless workflow isn't just more cost-effective, but also increases quality enormously. Another decisive aspect is the possibilities for collaboration. With Store Share View – the first step of Eplan's cloud concept – external participants may also access the data if they are assigned access rights. The infrastructure for collaboration is available through the cloud and a department must no longer go through an elaborate project hand-over process. Subsuppliers can simply use a web browser to read the current project status. Another practical benefit: Only current data are available and changes are documented by way of a managed redlining workflow, meaning that sources of errors are eliminated once and for all. Collaboration with subsuppliers becomes easier, also optimising workflows.
Connections to PDM/PLM remain
If a company wants to get new software, there's one question that often pops up first: What happens to my current connections to IT infrastructures? Examples of this include the interfaces to PDM or PLM systems that generally must be updated or adapted to a new software. Eplan also considered this question while developing Store Share View: existing connections to the Eplan Platform remain unchanged. Any conversion of existing integrations isn't required since the Eplan Projects created in engineering are the source for Store Share View, making any changes to the data storage for the source project unnecessary.
Innovative operating concept

Aside from being functional, software should also be as pleasent as possible to use and support all of a user's needs. Eplan has also done quite a good on this point. The operating concept is state of the art and made to be easy in its entirety. Whether using a touchpad, a mouse or an active pen: all technologies can be utilised and naturally all current end devices – from PCs to touch-screens through to mobile devices. This ensures for flexibility during times when engineering is becoming increasingly globalised. Due to the 24-hour availability of cloud services, every project participant can access the data from any location around the world.
First use cases from cooperation partners

Cloud technologies are developed so that many partici-pants can work on a project. In the context of Industry 4.0, these project participants are often much more widely scattered than in just one company. Partners work collaboratively on solutions, create connections between their software solutions and thereby increase user benefits. The companies Festo and Lenze have been Eplan partners for years. They have stored numerous component data in the Eplan Data Portal and, for their part, are exploiting the opportunities of cloud technology. At the Hannover Messe, both companies are presenting initial use cases that were technologically created with a Rest API in Store Share View. Rest API technology enables access for third-party suppliers so that they can optimally utilise engineering data designed in Eplan for further processes.
The concept around Store Share View is being presented for the first time at the 2018 Hannover Messe. Find out more at: www.eplan.de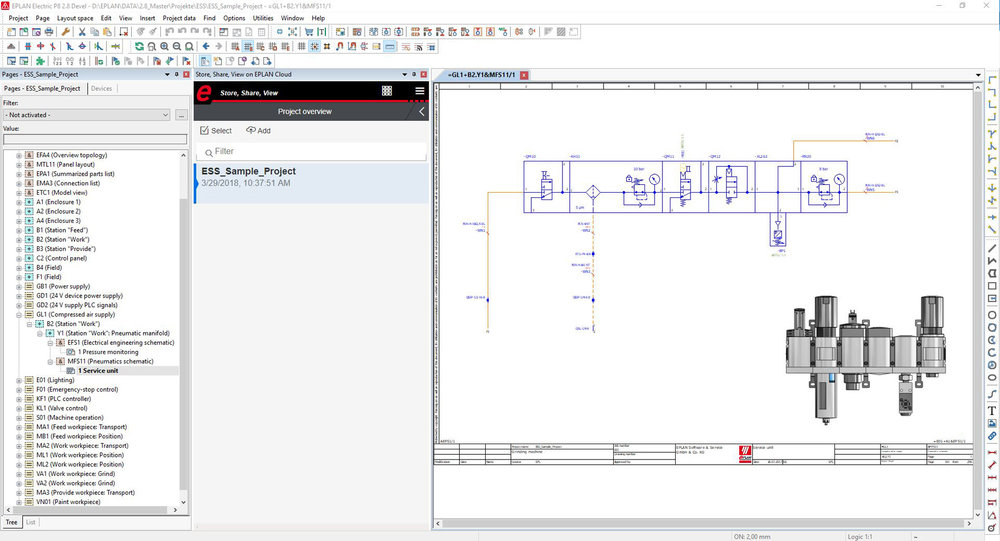 Store Share View ET.jpg: The schematic project shared by the Eplan user becomes available for manufacturing through a web browser as an example. Device details are easily and transparently provided – these are shown by selecting a device within the schematic.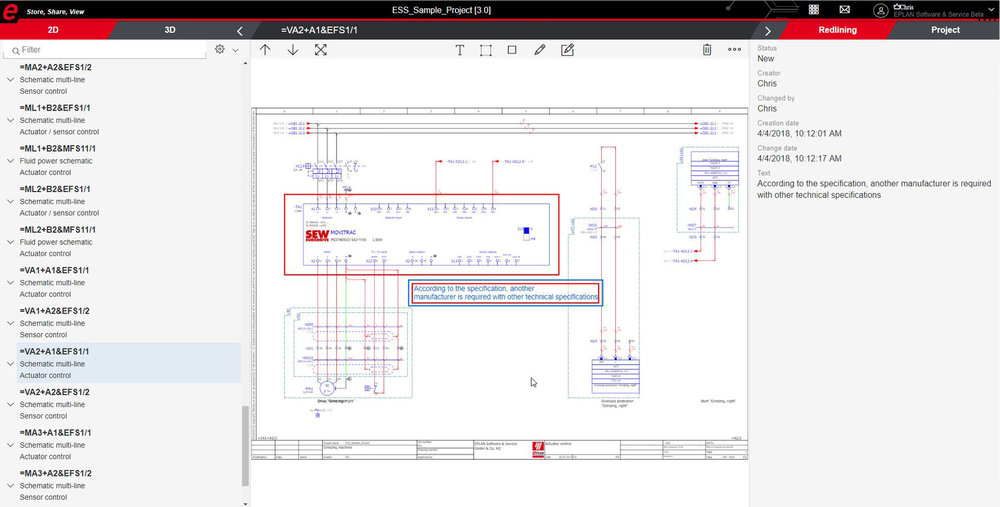 Store Share View Redling.jpg: Changes can be documented and forwarded to Eplan users who can then carry out the modifications, guided by a list – difficulties in deciphering someone's handwriting thus become a thing of the past.